NAMM Announces Activities Of Sixth Annual National Wanna Play Music Week May 7-13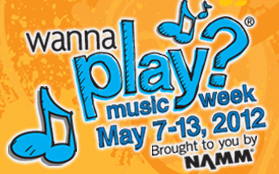 Once again, the National Association of Music Merchants (NAMM) is calling on all aspiring musicians to pick up a musical instrument and play during its sixth annual National Wanna Play Music Week (May 7-13, 2012).
Starting May 7, people of all ages and backgrounds can join in celebrating the benefits of playing music through various activities, including:
Monday, May 7: Music Monday–Music Monday kicks off National Wanna Play Music Week with nearly 600,000 students across Canada and the United States joining together by singing and playing instruments in a collaborative show of support for school music education and the fun and benefits of making music. This year, the cities of San Diego and Carlsbad, Calif. will join NAMM staff and special guests at NAMM's Carlsbad headquarters to proclaim May 7, 2012 as Music Monday and join in the fun of playing music with their community.
Tuesday, May 8: Tech Tuesday–NAMM salutes the leading digital apps, websites and tech products that inspire people to learn how to play a musical instrument. From interactive video games to your personal pocket music teacher, learning to play a musical instrument has never been easier or more fun. Visit www.wannaplaymusic.com on May 8 to see which apps, sites and products top the list! Advertisement
Wednesday, May 9: America's Favorite Unexpected Musician–It's surprising how many actors, athletes and politicians also play a musical instrument for fun. Find out which of these "Unexpected Musicians" are America's favorites on May 9 when NAMM announces the annual public poll results at www.wannaplaymusic.com.
Thursday, May 10: Pledge to Play–Found at www.facebook.com/wannaplaybynamm, NAMM's "Pledge to Play" is dedicated to empowering those who have always wanted to learn how to play a musical instrument or sing to take the first step. Starting on May 10, each pledge taker will receive monthly inspirational videos with insightful tips for staying motivated, focused and on a clear path to learning how to play music.
Friday, May 11: National Music Store Weekend–This weekend is designated to start the musical journey with a visit to a local music store. NAMM thanks the thousands of local community music stores who serve as music making's biggest champions. To find local music retailers, visit: www.wannaplaymusic.com/dlocator. Advertisement
About NAMM's Wanna Play? Public Awareness Campaign
NAMM's national Wanna Play? public awareness campaign is dedicated to increasing awareness of the proven benefits of playing musical instruments for people of all ages. Since the campaign's launch in November 2006, the key messages about the fun and many proven benefits of playing music have reached millions of people through national public relations efforts. In addition, Wanna Play? has the support of more than 100 celebrities, including John Stamos, Jack Black, Jeff Daniels, Robert Downey Jr., Band from TV, Orianthi, and Gary Sinise. For more information and to get involved, interested parties can visit www.wannaplaymusic.com.