Joe Bergamini on Subbing With Jesus Christ Superstar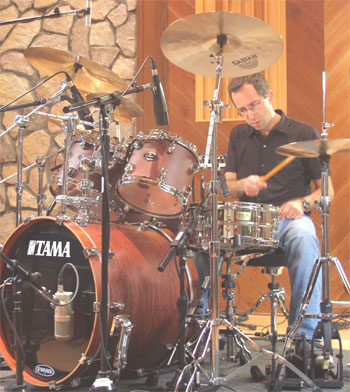 On March 30, I did my first show at Jesus Christ Superstar on Broadway. The current revival opened in New York on March 22, with New York/Broadway veteran (and fantastic player) Clint DeGanon on drums.
Subbing on Broadway is always an interesting challenge, for many reasons. Most successful subs not only learn the songs, but learn the grooves note-for-note and the fills nearly so. In addition to having excellent reading skills, wide stylistic knowledge, and the ability to lock in with a click, you must also know how to follow a conductor very well. And since you will not get any rehearsals before your first show, it's necessary to sit in the pit and watch the conductor several times so that you are familiar with the cues that will be happening during the show.
All of this is a lot of hard work, and a first show is often a very stressful experience. Happily, however, I felt very comfortable with the music at Superstar, and conductor Rick Fox and the fantastic band made me feel right at home. I have a few shows under my belt now, and I'm having a ton of fun playing this legendary music with such a talented cast of actors and musicians. Advertisement
One of the cool things about subbing is the variety. I currently know and sub on Jersey Boys, Rock of Ages, Jesus Christ Superstar, and The Lion King, and I'm in the midst of learning another show. Some of my friends and students comment on the fact that this is quite a lot of music to remember, but somehow I think that knowing all of this material can help to keep your mental skills sharp, and to heighten your concentration on the gig.
Either way, I'm happy and thankful to be working on the Broadway scene. It has gotten extremely competitive, and every pit is filled with world-class players. Altogether, I've been involved with nine Broadway shows as a sub, and each one of these gigs has been a tremendous learning experience, as well as a fulfilling musical one.