Influences: Jane's Addiction's Stephen Perkins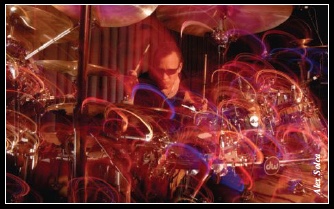 As Jane's Addiction continues its successful Theatre of the Escapists tour, a new generation of fans is being hipped to the ecstatic tribal glam event that is a Jane's show—and to the uniquely galloping drumming approach of Stephen Perkins. In the latest installment of Modern Drummer magazine's Influences series, we detail Perkins' long and eclectic career and take a close look at exactly what makes his drumming so special. You can read that article in the July issue of MD, on sale June 5. Here we talk to Perkins about his influences.
Interview by Stephen Bidwell
Stephen: Like most young drummers in 1976, '77, it was all about the great jazz players. You know, I wanted the speed and discipline of Buddy Rich but the spirit of Gene Krupa—that more tribal African influence of Gene. But I loved Buddy and the way it was just so precise. I'd never heard anything like it. It was just like a machine gun at all times. So those days as a youngster, ten or eleven years old, that's what I wanted to do.
MD: Your feel has a unique swing to it, which is reminiscent of early-'70s drummers like Ian Paice with Deep Purple, Bill Ward with Black Sabbath, John Bonham with Zeppelin—the drummers from the era when metal was just starting to happen. You can hear the influence of jazz drummers in their playing and in yours. Advertisement
Stephen: You're right, there was plenty of swinging music when I was coming up. Those cats didn't have much else to draw from in that age, and the greatest drummers were the big band swingers. Most of Van Halen's records in the early days had that kind of backbeat boogie swing. I love a good Memphis kind of blues. I love playing Albert King records. Some of the early glam stuff definitely had it. "Tie Your Mother Down" by Queen and some of the early stuff by the Sweet had that swing, and it was sexy. But it really comes from where it all started, growing up with Gene Krupa, Buddy Rich, checking out The Tonight Show with Ed Shaughnessy. Later I got into Roland Kirk and Pharoah Sanders and dipped into more challenging jazz.
MD: Does having a natural swing in your playing ever present a problem in the studio?
Stephen: Many times in the studio the guys are like, "You swing too much—can you swing less on the hat"? I'm like, "Okay, let's try it both ways. Let's listen to it when I give it a swing, and then when I stiffen it up." Maybe it'll be better stiff—it might make it sound odd, but maybe it leaves more air, and then we can swing with a shaker overdub.
MD: After being influenced by jazz, where did you take your playing?
Stephen: As I started playing and realizing the possibilities of my hands and feet, that I could replicate what I was listening to, it was nice to just sit there and try not to rip off anybody and just play. That was a great experience, to try to find my own sound and take all the chops and all the records I listened to, from the Motown stuff to bebop to really cool African or Latin records, just taking everything and going, "That's all in me, but it's not really me." Advertisement
I realized that my hands and feet could do these things, but I didn't write that music. So how do I write something that's me? And that was the soul search of the drummer, to realize that speed and technique and all that stuff is important, but it kind of gets in the way when you're trying to find your sound.
Comparing my heroes, like Mitch Mitchell, Ginger Baker, and Elvin Jones, made me realize that there's space in music, and that's real estate. That's what it's all about, the real estate in the song. After everything you do, every record you listen to, and every chop that you try to figure out, it's really just about finding that soul that is you and putting it out there. And if that's something people can move their ass to, that's exciting to me.
MD: You mentioned Motown as an influence.
Stephen: When I was with Porno for Pyros we had a song called "Pets," and I was like, "I want to do a simple Motown beat." I just used the timbale and the snare drum. And that was my little Motown moment when I thought the music and the lyrics were so strong that I just wanted to be the clock in the background. Just tick-tock, tick-tock, no fills or anything. Advertisement
MD: You also managed to get away with a wide-open, minimally processed kick drum at a time when that wasn't the norm.
Stephen: It was a great time for me in Porno, especially because Jane's before that was so guitar driven, and Porno was really more drum and rhythm driven. And Perry [Farrell] and I totally talked about that—let's let the drums lead by texture, not the guitar. And that was really where Porno started. You can hear that on the first record. Pete DiStefano's guitar playing is very minimal at parts. The song called "Meija" is just a riff over and over, but the drums and bass are barreling through. "Orgasm," the last song on the record, is all bongos and snare drum with brushes, and the guitar is just a little…I think it's a violin bow on the guitar. So there was a lot of room in Porno for me to figure out new ways of approaching rhythm, either simply or over-the-top busy, if it turned out that's what was needed.
MD: Going back to Jane's Addiction, from the beginning it seemed that the band was a meeting of metal kids and goth dudes.
Stephen: [Guitarist] Dave Navarro and I were seventeen-year-old metalheads obsessed with Led Zeppelin and Iron Maiden—we could play Kill 'Em All from sleeve to sleeve. [Singer] Perry Farrell and [bassist] Eric Avery were into Echo and the Bunnymen, Bauhaus, Joy Division, Siouxsie and the Banshees, stuff that was just so minimal to me and Dave. I couldn't believe how little the musicians played and how effective it was. Our eyes were opened, and all of a sudden new rhythms were born, new sounds. It was great to have my chops in hand but then kind of throw them out the window and go, "Let's be musical, let's be lyrical, let's say something with our parts."
I think it was a good time to meet Eric, who wrote most of his bass lines on an acoustic guitar and then moved them over to the bass. And he never jammed much. It was just [sings "Mountain Song" bass line] over and over. So where does that leave me if he's not going to go anywhere besides this great melody? I can go anywhere with that thing! And then I heard the lyrics "Coming down the mountain" and thought, Okay, this is going to go tribal—I gotta use tom-toms. Advertisement
I've been very fortunate in the sense that I'm surrounded by great players that are unusual. They all have great rhythmic ideas as well. You can take anybody I've ever been in a band with, put them on a drumset, and they'll have something to say. I feel like there's something to be said about the influence of the guys you play with, and if you honestly love those guys and the way they play, why wouldn't you listen if they have a good idea regarding the drums? A guitar player might play a riff and then play a drumbeat to it, and you'll be like, "Whoa, I never would have thought of that beat, because I didn't hear the riff that way." That's always exciting. Never be ego driven in a studio or a rehearsal. Just ask, "What would it take to make this song as weird or cool as we can make it? Who's got the idea"?
MD: When you joined Jane's Addiction, were there any specific records they just threw at you and said, "This is what it's all about"?
Stephen: Well, most definitely it was eye opening to just go through their record collection and grab stuff. Dave and I were into X already, but we had no idea that we could go hang out with them like Perry and Eric already were. So all of a sudden we're hanging out with the X guys, the Chili Peppers, Fishbone. There was an L.A. scene that was completely separate from the strip.
I definitely remember Perry and me hanging out and listening to some of the go-go music coming out of Washington, D.C., and that was exciting. And when I got to hang out with Henry Rollins, who's from D.C., he told me a lot about that stuff. That music kind of changed my drumming, especially Trouble Funk's Saturday Night Live From Washington DC. I remember "Been Caught Stealing" and "Standing in the Shower" being written around that month or two where I was like, "These records are everything to me—let's go make music!" And that's what I came up with. Advertisement
The Jane's house had all these other bands living there. D.H. Peligro, the drummer from the Dead Kennedys, lived there. A band called Lies and Ghosts. A band called Miracle Workers, which had Gene Trautmann on drums [later of Queens of the Stone Age]. They showed me some great records too. I also hung out a lot with Fish from Fishbone. When we first met I was seventeen, and he turned me on to some great stuff.
MD: Later your playing would become as influential on a generation of drummers as the players of the '70s were on you. I read that Taylor Hawkins hitched his way to see you at the Wiltern in 1988 and said it was the best show he ever saw.
Stephen: As a drummer and as a musician, I love the fact that we threw a rock in a lake and the ripples are moving. I love the fact that we affected musicians and artists, not just people who listen to records in their spare time. I'd rather sell a thousand records to a thousand artists than ten thousand records to ten thousand people who don't care about music. They might love a song but never listen to it again. But we live on it. That's our food. So I love feeding those people with my music and my drumming. If I inspire people to break some ground, then I can die happy. I'm very happy with my career and what we imprinted, and I never want to stop being relevant. Advertisement