<i>Creative Brazilian Drumming</i> by Christiano Galvão <br><i>Afro-Brazilian Percussion Guide</i> By Kirk Brundage
Creative Brazilian Drumming by Christiano Galvão

BOOK/CD
LEVEL: INTERMEDIATE TO ADVANCED
$14.99
Written by Brazilian native and prolific drumset artist Christiano Galvão,
Creative Brazilian Drumming
is focused on teaching you to play four popular Brazilian styles and also to develop the skills to unleash your own creativity within each. The included CD provides examples of every exercise in the book, as well as play-along tracks for each of the styles addressed within: baião, maracatu, frevo, and samba. The CD is a great idea, given the many subtleties of Brazilian percussion.
Creative Brazilian Drumming
is laid out in a user-friendly format and includes track listings for each example. The notation is clear and easy to read, and the layering of parts and the inclusion of multiple variations on each pattern make the book a truly practical volume. The up-to-date recommended listening suggestions and reasonable price tag sweeten the deal as well. (Hal Leonard)
Ben Meyer
Afro-Brazilian Percussion Guide By Kirk Brundage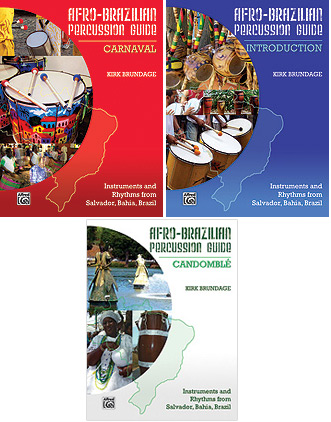 BOOK (3)
LEVEL: ALL
$5.99 each
Afro-Brazilian Percussion Guide
is an extensive three-volume study of folkloric and modern Brazilian percussion history, styles, and culture. Author Kirk Brundage is a Brazilian percussion expert based in Los Angeles and has traveled extensively throughout the South American country. The first of the three volumes,
Introduction,
is somewhat of an overview and includes sections on capoeira, samba, carnaval, and candomblé traditions. The book also includes a section on drumset adaptations of the included styles, which is a nice touch. The
Carnaval
and
Candomblé
volumes delve much more deeply into into each of these topics and flesh out the information presented in
Introduction.
Afro-Brazilian Percussion Guide
contains a huge amount of information and would be of great value to high school and university instructors interested in starting Brazilian percussion ensembles. This series would benefit from the inclusion of recorded examples, though recommended listening, viewing, and websites are provided to aid the reader. (Alfred)
Ben Meyer