Andrew Nauss of Thieving Irons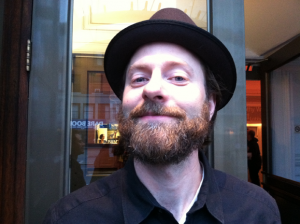 Hey, Modern Drummer(s)! My name is Andrew Nauss, and in some circles, "Dangerous" Danny Anderson. I'm very grateful to Modern Drummer for the opportunity to participate in the blog. I play drums for a Brooklyn-based band called Thieving Irons. Our recently recorded album Behold, This Dreamer is due to be released on June 5. I'm very pumped about this. See, I'm not a full-time drummer yet, but I'm working on it. So this album means very much to me on many levels, and hopefully will get me closer to that goal of quitting the ol' day job. I love working as a fishmonger, but drumming is light years more fun for me. (No disrespect to all the fish mongers out there.)
I started playing drums at fourteen. I played those puppies religiously for the four years I had 'em in high school. I was in a bunch of bands during those years, most notably Jaha, an ambitious teenage foray into prog pop. But then I went to college and was sadly estranged from my drums for a full year. Through that year, with great diligence, I got really good grades as a freshman, so that I could transfer to SUNY New Paltz and study in the jazz program there. My plan worked and I got in.
During the first couple of years at New Paltz, I played in a rock/jammy band while also studying jazz. That's where I met Nate and Josh, whom you'll read about two paragraphs from now. Anyway, it was during a gig for Pooja (said rock/jammy band) that I totally blew out my arms and contracted tennis elbow. Not cool. I was twenty-two. This freaked me out and impacted me greatly. I had to drop my music classes and barely graduated in six years due to the healing process taking a long time. After that I was so shell-shocked that I pretty much threw in the towel on music, feeling like I couldn't trust my arms to hold up. Advertisement
But hey, time heals. So two years ago, arms feeling better, I made a decision to lock myself up in a lonesome house in Lake Tahoe so I could woodshed for a year. Luckily my friend Jake told me to come back to the Hudson Valley, and I listened. So here I am, arms feeling good, and playing in bands with old friends from college and high school. And now, I'm excited to say, Thieving Irons are going on a northeast tour.
Our music is quite interesting, I think, and I love the sounds on the album.  This is due to the general excellence of singer/songwriter/guitarist Nate Martinez, bassist Josh Kaufman, Dan Brantigan (EVI, trumpet, coronet, keys), and engineer Dan J. Goodwin, from Isokon studio in Woodstock, New York. Dan understood exactly where this album was going and how to help facilitate that. Dan will actually be joining Thieving Irons on some dates, playing percussion.
Equipment-wise, I go with a circa-'63 Ludwig kit with a 12″ rack tom, a 16″ floor tom, and a 22″ bass drum. My early influence for this setup was Sean Kinney from Alice in Chains. I love having the ride up close to me. I have two snares that I use, depending on the application. One is an early-'80s brass Ludwig 6 1/2×14, the other is a late-'90s 6×14 Pearl maple-shell with a chrome top hoop and a graphite bottom hoop. For cymbals I rock a Zildjian 18″ K Dark Thin crash and a pair of 15″ hi-hats from the early '80s (or a set of 13″ New Beats), as well as an Istanbul Mehmet 18″ Medium Thin crash and 21″ Mel Lewis ride. My preferred sticks are wood-tip Vic Firths; depending on the tune, I'll use 5As, 7As, the Steve Gadd model—the extra length feels amazing—or 5Bs. Advertisement
Top three favorite drummers: Mitch Mitchell, Elvin Jones, John Bonham.
Thanks for reading my story!
For more on Andrew Nauss and Thieving Irons, go to thievingirons.com.