Woodshed Percussion Presents Shedfest, Featuring Drummers from Aldean, Jay-Z, Eminem, and Counting Crows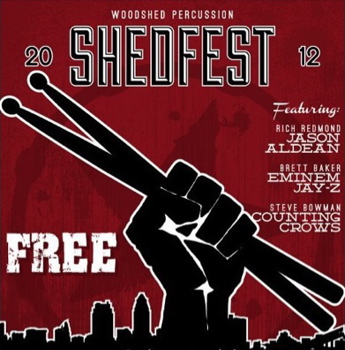 Woodshed Percussion presents second annual "Shedfest" on June 16, 2012 at 1 pm at St. Edward High School in Lakewood, Ohio (minutes from Cleveland).
This unique event is free for all ages and brings together three nationally-touring drummers for an afternoon of music education and motivation.
Shedfest offers attendees of all ages a rare glimpse into the music industry. The event gives attendees the chance to watch professional drummers in an intimate, casual setting as they perform, teach, field audience questions and share valuable insights for success in the music business. Artists are encouraged to share their story and offer advice for musicians, rather than focus on the all-to common "how-to chops".
This year's featured artists include Rich Redmond (Jason Aldean), Brett Baker (Jay-Z, Eminem), and Steve Bowman (Counting Crows, sessions).
2011 Shedfest artists included Rex Hardy, Jr. (Mary J. Blige, American Idol), Joey Williams (Justin Bieber, Mothers Finest), and James Agnew (Sean Kingston).
Although Shedfest is free, registration is strongly encouraged to provide adequate seating. Registered guests are also entered to win an autographed Shedfest custom drum head used during the show, along with other door prizes. Registration and event information is available at: www.facebook.com/woodshedpercussion.
Woodshed Percussion is a custom stage artwork company helping bands gain fans by keeping their logo in front of the audience. Founded in 2000 and based in Cleveland, Ohio, notable Woodshed clients include Elton John, Taylor Swift, Kelly Clarkson and American Idol. Advertisement