Def Leppard's Rick Allen Announces The Debut Of <i>Electric Hand: Rhythm + Change</i>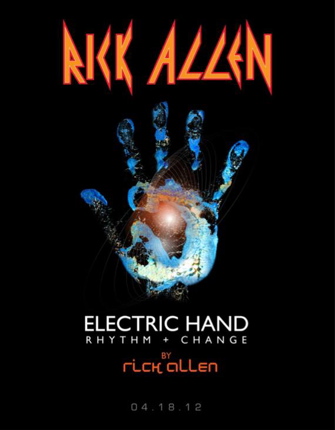 Def Leppard drummer Rick Allen announces the debut of his fine art collection entitled, Electric Hand: Rhythm + Change. The collection will be released on Wednesday, April 18 exclusively at RickAllenArt.com. Allen worked with L.A. creativity house SceneFour to translate rhythm into visual art. The result is a collection of abstract imagery built directly from the artists' rhythmic prowess. "The collection reveals something that up until recently I didn't even know existed, transforming sound into light," says Allen about his work. With this debut, Allen is holding true to a lifetime of breaking barriers, from overcoming the loss of his left arm and forging ahead with Def Leppard to the height of the band's successes to the founding of The Raven Drum Foundation, an organization focused on serving, educating, and empowering veterans and people in crisis.
With only 300 pieces available in the collection, those interested are encouraged to sign up at www.RickAllenArt.com for an opportunity to see the collection before the public unveiling on April 18, 2012.  Those who sign up will also have access to exclusive information, videos, and interviews prior to the release.
Rick Allen became involved in  philanthropic efforts with his wife and musician Lauren Monroe after losing his left arm in an automobile accident. Together, the duo has founded the Raven Drum Foundation with a mission to serve, educate, and empower veterans and people in crisis. With a rich legacy of music and humanitarian work, Allen is gearing up for another chapter in his career with his fine art debut, Electric Hand: Rhythm + Change. Advertisement
About Scene Four
SceneFour is a Los Angeles creativity house specializing in the conceptual and design of collaborative artwork with musical icons.  Throughout the creation of each release, SceneFour's team works closely with the musician to execute the visual ideas of the recording artist. To date, SceneFour has collaborated on fine art with an impressive list of musicians including The RZA, Bootsy Collins, Chuck D, TLC and members of Janes Addiction, Guns N' Roses, and System of a Down. In 2011, SceneFour released its first comprehensive book of collaborative art titled Come Together through Edition Iconix Publishing. For more information on SceneFour, visit www.scenefour.com.