Former Guns N' Roses drummer Steven Adler Announces New Band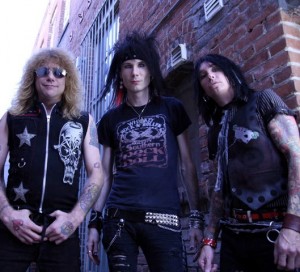 Adler, the new band led by former Guns N' Roses drummer Steven Adler and featuring singer Jacob Bunton (Lynam, Mars Electric) and guitarist Lonnie Paul (Adler's Appetite), is currently in the studio. "I love the music that we're creating!" states Adler. "I haven't been this excited about my band since the GNR days. Jacob is exactly the singer I have been searching for; he has an amazing range and is a great writer and front man. And Lonnie is an amazing guitarist and songwriter." The band is currently in a Los Angeles recording studio working on their debut album with producers Jeff Pilson and Jay Ruston. The album also features a guest appearance from Adler's former Guns N' Roses bandmate Slash; the two recently collaborated on the guitarist's self-titled debut solo album.
Slash, Adler, bassist Duff McKagan, singer Axl Rose, and guitarist Izzy Stradlin will all be inducted into the Rock and Roll Hall of Fame this year, along with later Guns N' Roses members Dizzy Reed and Matt Sorum.
Follow Steven Adler at facebook.com or twitter.com.