The Beat Goes On for Whitney Houston
As most of the world is aware, singer Whitney Houston died this past February 11. We asked several of Whitney's longtime friends—drummer and musical director Michael Baker, producer/songwriter/drummer Narada Michael Walden, and percussionists Bashiri Johnson and Taku Hirano—to share their thoughts on working with the iconic singer, which we bring you exclusively on moderndrummer.com.
Michael Baker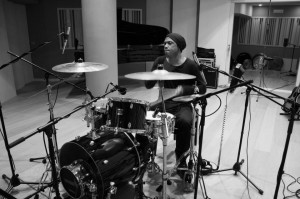 For all of us Whitney Houston fans out here, we are still very sad about her passing. For me it was truly an honor to have been first her drummer, back when she came out with the movie The Bodyguard, and then her musical director as well.
Being a musical director was not always easy to do from the drum chair. I was with Whitney for eighteen years, and the time went by very fast. Our tours would last two years at times. She was extremely popular worldwide, as you all well know, so there were not many places that we did not go. Advertisement
One of the things that I remember most about her was her incredible sense of humor. She was one of the funniest people I've ever met—mainly because she was so spontaneous and clever. She always kept us laughing. I think a lot of people didn't really know that about her. She was also always looking out for other people and making sure everyone was okay.
Whitney's was a voice from heaven. To play with her and to hear that voice live on stage in all its wonder was truly something to witness. Actually, she sounded better live than she did on recordings, if you can imagine that. Live, she had more freedom to express her feelings, and she was able to improvise much more. And the power that came from her voice was amazing; in my opinion, the physical effort that she put into every performance was unequaled.
On stage she never once complained that the drums were too loud or the band was too loud. And if it was, she would just sing over the band, or sing around the band. She had that kind of power and presence. Advertisement
My work with her was very hard and time-consuming. In addition to playing, it was my job to do any Pro Tools editing and postproduction. Sometimes arrangements needed to be fixed, and sometimes I would need to handle any problem that would arise as a result of her vocal injuries, which happened more later in her career, after singing with such intensity for all those years.
I was always very honored that a vocalist at her level trusted me with her live career. I called musicians, did arrangements, called in other arrangers, worked with Pro Tools technicians, changed shows right on the spot, and did everything in between. From the drum chair, I really had to watch her every move on stage, mainly because she was a true artist and would change things right on the spot. She didn't like to rehearse too much either, so I learned to put the shows together in a way that was very open-ended, so that she could do whatever she wanted to do on stage. The musical arrangements were not too difficult, and I mainly stuck to the original format of the songs. She would later change things as we toured night after night, until we had a very well-rehearsed show.
The drum parts weren't so difficult for drummers to listen to or to play either. However, it would become one of the most difficult kinds of playing situations you could imagine because of that simplicity, and, above all, because I had to be sensitive to the timing. It was also a difficult job for drum techs. Advertisement
Whitney's difficult personal life has not been a secret. It was because of these difficult times that I always remained a true friend. I kept my distance when it came to her personal life, often just being an ear or being a friend that she could call at four in the morning when she wasn't happy with certain performance issues, songs, and the like.
Above all I would say that the Whitney camp was the best music school that you could attend. Once you went through the Whitney camp you would be prepared to rock any tour out there! And she treated every musician, every tech, and every stagehand with the utmost respect—this is the Whitney I knew and will remember.
Needless to say I will miss my friend. One of these days I will be sitting in a restaurant somewhere and look around, waiting for her to show up with her entourage, smiling and joking around. That's the Whitney I will always love! Advertisement
Narada Michael Walden: "My Nippy!"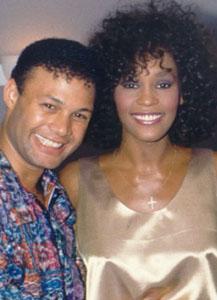 I'm still very saddened, but at the same time so proud of my Whitney Houston. She gave us her all. I'm so proud of the great music we worked on together—seven number ones! She is my sister, my friend, and one of the greatest singers and women I have ever known. My heart especially goes out to her beautiful daughter, Bobbi. Bobbi once said to me, while her mother was there, "I want to sing!" I told her, "Whatever your mother says." I looked into Whitney's eyes, and we both smiled the best smiles.
I say, God, thank you for sharing our angel Whitney with us, even for a short while. She really did open up our hearts and brought in your heavenly sunlight.
To her mother Cissy, my love goes out to you. I met Whitney through you when she was eleven years old, when you were singing background on my first solo album, The Garden of Love Light. Then we recorded a duet for you and Whitney titled "I Know Him So Well" from the Play Chess sessions. Again, beautiful!
Some of my proudest moments with Whitney were when we broke the Beatles' record with seven number ones in a row. Love to Gerry Griffith and Clive Davis and Arista Records, who brought you into the world of music. Whitney was very funky and loved rhythm and the futuristic grooves for our world to dance to. This was one of our profound connections. And she loved my drumming and would crack up and always dance in the studio. I even played live with her on "I Wanna Dance With Somebody" in London at Wembley—Prince Andrew was blown away by her performance and beauty. I also reenacted my drums on the video for "So Emotional"—what fun! Advertisement
What most people don't know about Whitney was her true love of fun, passion, spirit, and real music—even the sensitive music of Burt Bacharach that her aunt Dionne Warwick sang. We would go to the piano, where I would play and she would sing all of our favorites, just to relax and bond in the studio. I would jump on the drums there for her too. She had massive amounts of energy, and our playbacks were loud and spilling over with giant emotion. Even our ballads were huge! (They could also be tender; I used brushes for "For the Love of You" and "Just the Lonely.")
On our first big smash hit, "How Will I Know," I had my Linn machine drum pads going on. We would always be thinking dance floor! "I'm Every Woman"—that was her choice for me to cut, and she was nine months' pregnant when she sang that song in the studio. Wow! I remember Natalie Cole came in to watch. And Whitney always loved the way DJ/mixer/producer Jelly Bean Benitez danced in the studio. She had a great sense of humor!
Amen to my beautiful sister of heart, soul, power, and promise. She loved God and her family and was the beacon of light for new generations to come. She is missed and beloved. I will always be her brother in the funk, spirit, and sensitivity. Blessings, love, and gratitude to you, my darling Whitney, whom I affectionately call Nippy. PS: We had fun! Advertisement
Bashiri Johnson: Playing for an Angel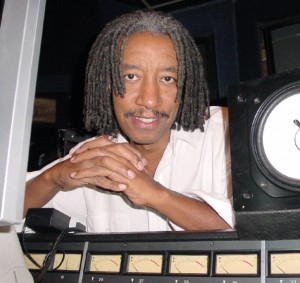 We percussionists love to paint. And who better to rhythmically paint for than one of the greatest voices ever heard, Whitney Houston. Some nights I'd paint clouds for her to soar around. Some nights I'd paint graffiti-covered subway cars for her to head-nod to. Some nights I'd paint jazzy flourishes for her to scat between. And some nights I'd paint explosive ocean-like waves for her to belt over.
I was in heaven working with Whitney Houston, and she was my celestial angel. Whitney was guided by spirit. Her spirit was love, and that is exactly what she gave to everyone who heard her, and everyone she touched.
From her songs "You Give Good Love," "Love Will Save the Day," "I Will Always Love You," and "One Wish" to the American Music Awards, the Grammys, the World Music Awards, the GMAs, the Olympics, The Arsenio Hall Show, SNL, Welcome Home the Troops, Classic Whitney, and Oprah, it was a blessed ride of fun, achievement, and glory, which will be a treasured part of me always. Advertisement
Whitney was at ease performing for sultans, politicians, billionaires, royalty, other artists, and her friends and adoring fans all over the world. It felt comfortable playing behind Whitney. She would listen hard and respond in kind, with serenity, forbearance, or strength. What musician wouldn't want to musically paint for, or dance with, a vocalist so complete, so whole, and so true?
Taku Hirano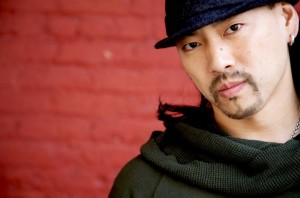 On the day of Whitney's funeral service, I had the strange position of talking about my time with her live on national television. The Fox News Channel, through my wife—who's an anchor there—contacted me for some personal stories and reflections. I felt slightly apprehensive about it, as there are many colleagues who performed with her far longer, and interacted with her much more, than I had the honor to. Don't get me wrong—I earned the gig, and through it, I spent the good part of a year in rehearsals, soundchecks, touring, TV appearances, performing on award shows, and hanging out within the inner circle of her camp.
But there are so many musicians that I have looked up to that were with her since the beginning, and that witnessed such seminal moments in Whitney's career, such as the Super Bowl, The Bodyguard, recordings, movies, tours, the concert for Mandela, etc. To talk about her, remember her, and honor her during a period of time when so many "talking heads" were rushing to get screen time on television so that they could claim her, and wax poetic about their brush with her stardom, seemed like it could be misconstrued. Advertisement
When I heard the news of her passing, it was about an hour before hitting the stage. I was in total shock and utter disbelief. It had been a good while since I had seen her, but many of my friends still toured with her. Of course I had heard about the ups and downs and seen the infotainment shows, tabloids, and bloggers go to town on her personal life. So when the opportunity arose to talk about my experiences, I really wanted to stress the human side. The fact that she was a mother and a daughter, and that she was a deeply spiritual person.
Whitney stressed a family atmosphere on tour. Unlike many pop stars, she usually stayed in the same hotel as the band and dancers. There was no separation. Also, even though she had to keep a fairly tight security detail, she was always around. She liked to hang out back at the hotel with the band and dancers after the show. There was many a night across Europe where we took over the lobby post-show with a boom box, and she and the dancers would dance. She would also join the band in card games into the wee hours of the morning.
So, with gratitude and sadness, I wish all the best to Whitney's family and friends, as well as her touring family from over the years. I know that I am a better musician and person from my time in her presence, and I feel blessed and honored. Advertisement