Vince Wilburn Jr.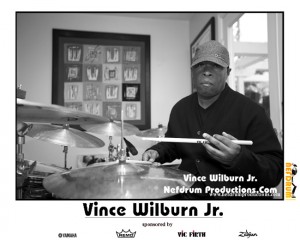 Hey, what's happening, MD! This is Vince Wilburn Jr., recently back from winter NAMM 2012, where I got to see a lot of my good friends, witness some great music, and check out new, innovative products. It's one of my favorite times of the year. I witnessed a great tribute to Motown legend James Jamerson, featuring Stevie Wonder. It was run by Stevie's musical director, Nate Watts, and it was killing!
I ran by to see all of the beautiful companies that have been supporting me throughout my career. I checked in with John and Prudence at Yamaha for a photo shoot with all my Yamaha brothers, went over to see my brother Chris Hart at Remo, and ran into my brother Leon Mobley—a fantastic percussionist—as well as Johnny Lane. Then I stopped by Vic Firth and said hello to my man Joe Testa-rosa and dropped by to visit the beautiful Zildjian family—Johnny D. and Paul Francis. I want to thank the best publicist in the world, Karen Sundell from Rogers & Cowan, for making this all run smoothly. I also want to thank my brother Earl from Chi-Town for taking the bomb photos.
I ended up at the Monster booth and gave my brothers Verdine White and Ralph Johnson big hugs, and I was surprised to see one of my musical idols, George Benson, who I also gave a hug. Shout-out to Noel Lee and the entire Monster staff for the warm reception and the beautiful Miles Davis Tribute high-performance in-ear headphones. It was also great to hang with my cousin Erin. Be on the lookout for his artist, trumpeter Gabriel Johnson. Advertisement
To sum it all up, NAMM 2012 was the bomb. Can't wait until 2013. Stayed tuned for more news on the Miles Electric Band, out on tour this summer, including the Hollywood Bowl on June 27, which I'm honored to be a part of. Check out the new Miles Forever stamp too. And we're still moving forward with the movie starring Don Cheadle, directed by Antoine Fuqua, and scored by Herbie Hancock. Also, let's give some love to my brother from Chicago Jesse Campbell, who's a finalist on The Voice. Shout-out to my brother Dave Hampton from Reftone Speakers, who also designed my studio. Follow me on twitter  and you can holla at www.facebook.com/people/Vince-Wilburn-Jr/100001230099055.
Peace and light,
Vince