Pat Kirch of the Maine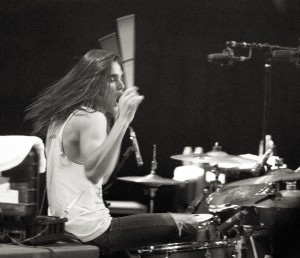 I never know how to start something like this, so I guess I'll just jump right in. When 2011 came to a close I was doing a lot of thinking about everything that happened last year. My band, the Maine, had just released a new record, Pioneer, and musically, this album went in different directions than we had ever gone before. We produced the album ourselves, with no outside input. As a drummer, it was interesting not being concerned with what anyone else was thinking about the recordings. I was able to freely change things up as far as drum sounds went, depending on the song and what it needed. Also, this was the first time we recorded songs with everyone in a room playing together live. This is something I would like to discuss more in the future.
After the album was released we went on a small club tour for a few weeks, where we played the album from front to back. Playing the record as one piece has felt great. It makes my playing as a drummer feel complete. I cannot wait to see where we take the songs live this year. We started 2012 touring Europe, then I look forward to seeing where this whole thing takes us. I'm very excited to see what's in store.
For more on Pat Kirch and the Maine, go to www.wearethemaine.net or www.youtube.com/artist/The_Maine.