Jeff Fabb with James Durbin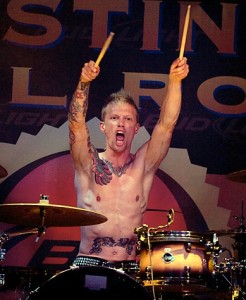 Hi, my name is Jeff Fabb and I was born and raised in the small town of Mattituck, Long Island, New York, and started shredding away at the age of eleven. A year or so after high school I decided I would begin my journey to Los Angeles to explore as many musical opportunities as I could, being there was little to none in my home town.
The journey was slow, answering classified ads—everyone that placed ads said they were going to be the next big thing, but I just wanted to get out there and play.
After a few years playing the L.A. club scene, I came into contact with members of female-fronted metal/rock band In This Moment, including guitarist Chris Howorth and former Five Finger Death Punch bassist Matt Snell, who had a project together.
ITM took off fairly quickly, thanks to the social media networking system Myspace. We also found management through Myspace with Rob Nicholson (a.k.a. Blasko) from Mercenary Management. Blasko took interest in the band after booking the band's first U.S. tour with Powerman 5000. After that it was constant touring, just road-doggin'. Advertisement
We released our debut album, Beautiful Tragedy, and shared the stage with metal/rock icons such as Ozzy Osbourne, Megadeth, Mudvayne, Papa Roach, Sevendust, Disturbed, Korn, 5FDP, and DevilDriver. U.S. festivals included Ozzfest, Warped Tour, Mayhem, and Music as a Weapon. We also toured internationally, including European festivals like Download, Rock am Ring, Rock im Park, and Nova Rock. We got to cut our teeth early on; it was such great experience to learn how to play in front of large audiences.
Around the end of 2011 and three records later, I got a call about singer James Durbin needing a drummer for his band. ITM just finished a summer tour, and we were going to have some time off. I never thought I was going to get the gig. I just learned the songs and tried my best. Well, I got the gig and quickly moved to Santa Cruz to start rehearsing. Everything happened so fast. It was sad to leave ITM, but I was excited for this new gig.
Musically it's so different from what I've been playing for the last six years. I listen to many different genres of music, so it's refreshing. It's nice to be able to groove, hit hard, and sing. Music is music, and I love it all! Advertisement
There are so many great songs on James' album Memories of a Beautiful Disaster, such a wide variety of music. I love the swing feel in "Stand Up," especially in the pre-chorus. The heaviness of "Higher Than Heaven" and "Outcast" is really awesome—you can get your Tommy Lee on to those! The space in the songs "Right Behind You" and "Deeper" is really cool; I love being able to just let my drums breathe after hitting them. I think my favorite song to play is "Love in Ruins." It leaves room to groove and play dynamically, and it reminds me of Aerosmith. I really enjoy playing the record—playing for the songs and making each shot count for something.
Soon after moving up to Santa Cruz, the James Durbin band shot the video for the first single, "Love Me Bad," in Barstow, California. It was the same place where Mötley Crüe shot "Dr. Feelgood." There was pyro, and there were pianos on fire! James was driving around in this badass Challenger, and it was truly rock 'n' roll. Shortly after, a video was shot in Brooklyn, New York, for a second single called "Stand Up," which was also used by the NFL for their fall and winter promotions. That video was fun to make. The guys in the band are funny as hell and such great people; there's never a dull moment. "Stand Up" has a live band vibe and is kind of punk rock.
My drum warm-ups before shows consist of standard rudiments on an Evans RealFeel practice pad. The pyramid of death is always key to a great warm up. I was introduced to it from Ray Luzier. It goes like this: RLRR LRLL RLRLRR LRLRLL RLRLRLRR LRLRLRLL—simple but effective! Advertisement
I play ddrum Dios drums with Evans Ebony heads on the toms and a two-ply EC Reverse Dot on my snare. My brass is Meinl: 15″ Byzance hi-hats, a 20″ mb20 Heavy crash, a 21″ mb10 Heavy crash, a 20″ mb20 Rock China, and a 22″ mb20 Heavy Bell ride. My wood is Vic Firth Rock (heavies) and my hardware is DW. Check out Memories of a Beautiful Disaster, and make sure to come out to the shows when we're in your town—you won't be let down!
For more on Jeff Fabb and James Durbin, go to www.facebook.com/jfabb or http://durbinrock.com. Photo by Maureen Vana.