Steve Baskis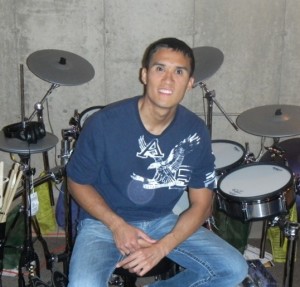 What's up! My name is Steve, but you can just call me "blind guy" if you want, ha ha! No, really, I lost my vision during combat operations with the U.S. Army in May of 2008 in Baghdad, Iraq, and was very lucky to escape with my life and all limbs. Well, my left arm doesn't work as well anymore, but I am happy to still have it. As you may have noticed I joke a little, but it was truly a life-changing event, and I've had to adapt and teach myself how to do many different daily tasks all over again. All that aside, I have always loved music and the beats that form the backbone of songs, so taking up drumming when I was thirteen just seemed appropriate. To this very day, I can still remember my teachers telling me to stop all that tapping I did at school desks.
The explosion that took my vision and killed my friend changed my perspective of the world completely, but did not change my drive or motivation to continue doing the things I love. My current project is trying to re-learn how to play the drums blind with a handicapped left hand.
I recently moved into a new townhome in a suburb of Chicago with my wife. Of course my neighbors live right next door, so I knew noise was going to be an issue. I decided to purchase Roland's flagship V-Drums TD20 model, which I had the opportunity to mess around with when I was sighted. The Roland drumset allows me to play whenever I want; I just throw on some headphones and bang away. Playing on an electronic drumset is very different from playing on an acoustic set, but the Roland V-Drums feel very similar to acoustic drums because of their mesh pads. Advertisement
I had never taken lessons, and decided this might be a good time to hire a private instructor. My hope was that maybe a skilled drummer could help me with developing or creating a special glove for my left hand, which really cannot hold a drumstick properly. I was in luck, as my instructor, Eric, found these things called Gig Grips, which assisted me with balancing and holding the drumstick almost immediately. Now Eric and I are working on my drumming skills. I have to confess that it isn't easy drumming blind, and it's even harder with a bad left hand. But I'm slowly progressing.
In addition to drumming, I'm trying to learn how to be a blind sound engineer. I hope to record local musicians and help anybody interested in music get the sound they want. Oh, yeah! You're probably wondering how a blind guy can post blogs. Well, I use a screen reader called Apple Voice Over. Google it if you're interested.
Thanks for reading. Deuces,
Steve Baskis