Mike Johnston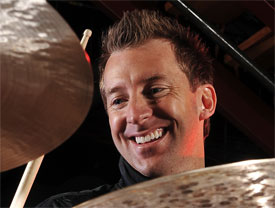 [MDEdTop]Online educator and clinician Mike Johnston began playing drums at the age of five, and he studied privately with some of the greatest educators of our time, including Peter Magadini and Steve Ferrone.
At the age of twenty-one, Mike received a major-label record deal with his band Simon Says (Hollywood Records) and spent the next five years touring the world. He received a gold record for his contributions to the Varsity Blues soundtrack and has appeared on The Late Show and MTV's Fashionably Loud.
Mike currently runs the educational website mikeslessons.com, where he offers pre-recorded videos as well as real-time online lessons. Each year he hosts multiple international drum camps at the mikeslessons.com facility. Advertisement
Here are a handful of the videos Mike created exclusively for moderndrummer.com to accompany his Rock & Jazz Clinic articles.
Linear Fills, Part 1 – Sept '10
Linear Fills, Part  2 – Oct '10
Double Bass Substitute – Part 1: 16th Notes -March '10
Double Bass Substitute – Part 3 : Opening the Hi-Hat – July '10
[MDEd]