Manu Delago with Bjork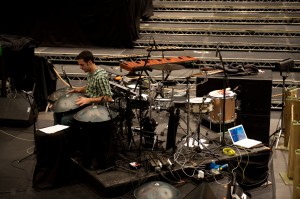 Hello, my name is Manu Delago, and I'm currently touring with Icelandic artist Björk. Her project Biophilia is quite different from anything else I've been involved in so far. Apart from Björk, a twenty-four-girl choir from Iceland (!) and a few extraordinary robotic instruments, there are only two musicians on stage, which keeps us quite busy.
I got involved in the project after Björk saw my hang solo "Mono Desire" on Youtube. She asked me to play the hang on her album and app-suite Biophilia. A few emails later, I found out that I'd also play electronic and acoustic drums, xylosynth (a MIDI marimba), and other percussion in the live show. That basically summed up all the instruments I've ever played, at least the ones that I comfortably enjoy playing on stage. Below you'll find a link to a live version of the song "Crystalline," which has a slightly surprising but very "drumatic" ending.
Apart from being a sideman, I also write music and run my own bands, mainly instrumental music. The first bass clarinet/hang duo in the world' Living Room, recently released a new album called Colouring Book, which we performed live in China, Zimbabwe, Mauritius, North America, and all over Europe. We also have some shows coming up in NYC in February. Advertisement
Last November I premiered my piece "Concertino Grosso" for hang and string orchestra in Austria and Italy. I'm very excited to be performing this composition as soloist with the London Symphony Orchestra in the U.K. this coming March.
I also enjoy composing for less usual instruments, such as toothbrushes or pencils, which you can see on my YouTube channel.  To watch a performance of Björk's "Crystalline," go here.
All the best,
Manu
For more on Manu Delago, visit www.manudelago.com.