Jason Holmes of Black Taxi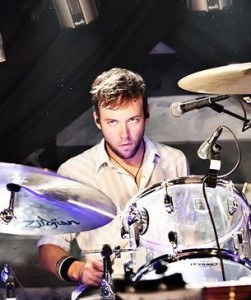 Hello to the Modern Drummer blogosphere! This is my first blog here, with hopefully many more to come. My name is Jason Holmes, and I play drums in a band called Black Taxi. We all live, work, and rehearse in Brooklyn, New York, but go out on tour as often as possible. We're actually in the process of buying a new van, so we're extra psyched for the next tour of the East Coast, Midwest, and our home away from home, Austin, Texas!
There are four of us in the band, but we want way more than four sounds at a time. I sing harmonies and play drums on all the songs. In the studio I play some keyboards as well, so I've tried adding a small synth to my setup, right next to the hi-hat.  It was a fresh challenge to try to play keyboard parts with my left hand, hold down a good feel on the drums, and sing vocal harmonies. Keyboard or not, I always use a click track when I play live. This was something I started doing a couple years ago. At the very least, a click keeps us honest to the time and consistent from show to show, but it also allows us to trigger loops and prerecorded synths to fill out our sound.
It gets tricky the more complicated the setup, though. One of the biggest performing challenges has been to roll with the show—a dancing audience and band antics—and to keep the song in the pocket. We used to play a lot of smaller club shows in NYC, and some nights the crowd would end up onstage and drinks would be spilling and people falling on the drums, so we try to really prioritize which sounds and gear we need on the stage. Advertisement
After our NYC release show at home in mid-January, we will be out on the road to celebrate our sophomore album, We Don't Know Any Better. We recently released a single from the album, "Tightrope," which is free on our website. Along with the album we'll be releasing a remix of another song of ours, done by my friend FakeMoney, who is a sick dance-music producer who also has a studio in Brooklyn. It was awesome to have him listen to a song that we've finished for the album, and to hear it from a totally different angle. He chopped our song up, treated the verse like the chorus, added a bunch of his own syncopated synth parts, and put it all back together in a similar format—but with bass drops! It's off the hook—and it sounds amazing played through a club sound system. We played it for the first time at our last show and people went nuts.
I'm also really excited that we'll be finishing up our next music video in time for the album release. This will be our third video, and like our other videos (you can check out "Shoeshine" and "Up Here for Thinking" on YouTube), we pulled in friends and fans to help us make it. We're working with David Franklin, who directed our first big music video, and we all wanted to work together again. It's so much fun to be on set with David—he's always built some contraption for one of us to wear to get an exact shot. (Either that or, we have to line the room with plastic because everything's going to get covered in paint!)
Adam Hootnick directed our last video, and redefined what making a Black Taxi video was by pulling all these dancers and a choreographer into the mix. It was a really big production with a great crew, and some of it was shot outdoors in the middle of the street in NYC. Definitely not the bare-bones DIY approach of before, but we're really proud of how it came out. Making music videos, whether it's a friend with a phone camera or a big production with a crew…it's so cool to see how our music influences others in their creative endeavors. Advertisement
Check out our new album, We Don't Know Any Better. We're also on BandCamp, FaceBook, Twitter, and everything else the kids are into these days. We head out on tour soon, so come see us live—that's where it all makes sense. For super-fresh dance floor jams, check out http://fakemoney.bandcamp.com. And keep an eye out for our new video and tour dates!
Photo by Deneka Peniston. For more on Jason Holmes and Black Taxi, go to www.blacktaxi.com.