Tom Roady: Down Home Percussionist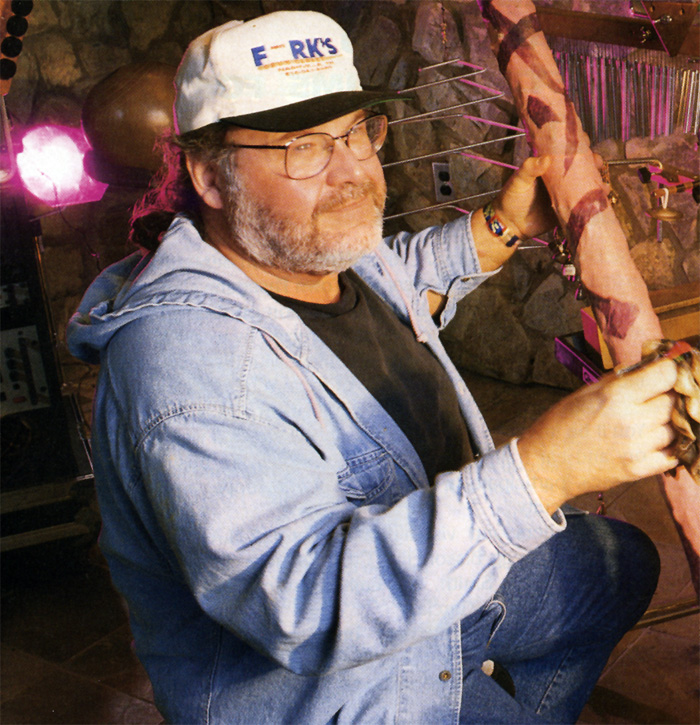 An interview with the late, great Nashville percussionist, which originally appeared in the May 1996 issue of Modern Drummer magazine.
Nineteen seventy-nine brought pressured days for Tom Roady, who was in the midst of a major life decision. After working in Muscle Shoals from 1973 to 1979, Roady found himself at a crossroads. Miami was calling him after Tom had worked with Karl Richardson and Albhy Galuten on Andy Gibb's "Rest Your Love On Me." It had been a personal highlight. At the same time, Jerry Wexler had called the percussionist to do Bob Dylan's Long Train Running album in Muscle Shoals. But Tom had just moved to L.A. with his first wife and had landed a gig with Paul Anka, who was about to leave for Germany. Consequently, Roady turned down both the Miami and Dylan projects.
"It turns out that Jim Keltner went down to Muscle Shoals, and he's somebody I've always wanted to play with. And then the whole band did the tour. I knew if I had done that, things would have taken a different turn," says Tom, seated in a Nashville studio. "For a while I really regretted not taking that gig because I didn't know what was ahead of me."
What was ahead was a move to Nashville in 1983 and a new career in country music, recording tasty percussion tracks for such artists as Tammy Wynette, Pam Tillis, Mark Chestnut, Little Texas, Conway Twitty, Crystal Gayle, Emmylou Harris, Mark O'Connor, New Grass Revival, the Dirt Band, Merle Haggard, Trisha Yearwood, Wynonna, Randy Travis, Kathy Mattea, Vince Gill, Suzy Bogguss, Lorrie Morgan, Tanya Tucker, Hank Williams Jr., Chet Atkins, Collin Raye, Clint Black, Steve Wariner, Confederate Railroad, and Reba McEntire. Advertisement
MD: What an oddity you are in country music.
Tom: Farrell Morris was the first oddity. He was the percussion king here. When I moved to Nashville, he was doing most of the sessions. It's just that now country music is a lot more accessible to the public.
MD: Where does percussion fit into country music?
Tom: It has to be subtle. That's the first thing I learned when I started working here. It's not so much giving them what they want; it's more of not playing what they don't want. A lot of the stuff I do is tambourine, congas, shakers, colors—those kind of things to sweeten it. Sometimes after the record has come out, they'll do a dance mix. They'll go in with gear and put all this other stuff on it. I don't do a lot of that. I'm usually just overdubbing on tracks or cutting tracks.
MD: Live cutting?
Tom: Yes. Vince Gill's last album (When Love Finds You) was done that way. Most of the sessions I did in Muscle Shoals in the early '70s were tracking dates. I would overdub afterwards. Most of my stuff now is overdubs, but I recently did some tracking dates with the Forester Sisters with Steve Turner on drums. That was fun. Advertisement
MD: It's a lot more fun when it's live?
Tom: It's a lot more fun because you have interplay, and depending on the project and what the producer and the artist are going for, a lot of times it can add something. For instance, on the first song I recorded with Suzy Bogguss, I walked into Emerald Studios and it was a 5/4 fiesta song, with a couple of measure of six. It was Leland Sklar, Eddie Bayers, Matt Rollings, and it was tracking. We did four songs in one day and I put castanets and congas on it. That was very unusual.
I remember another unusual time on a Merle Haggard record. We put congas and timbales on some song that had to do with "501 Blues." The engineer and I joked, "Did we really want anybody to know who engineered and played congas and timbales on a Merle Haggard record"? But I'm proud of that; Merle's a legend.
MD: If your role in country music is as a minimalist, is that how you grew up learning to play?
Tom: At the age of fourteen, I read a Downbeat article on Hal Blaine. That was the first time I heard the words "studio musician." When I saw all the records he was playing on—all my favorites—I thought, "What a great way to make a living," and that became my dream. Through circumstances, I went to college and majored in sociology, but I didn't want to get into the rut a few of my friends had gotten into where they had gotten their degree and had become assistant band directors. I wanted to play. Advertisement
MD: At fourteen you were already playing.
Tom: I started playing drumset at five and I played in the stage band in high school. I became more influenced by hand drums and percussion around the age of fourteen.
MD: So how did you learn to play percussion?
Tom: I listened to records and played along with Mongo Santamaria. I moved to St. Louis in 1968 and I was going to school. I met a dear man by the name of Phil Hulsey, who was like a father to me. He used to work for Slingerland. We hit it off and he had a lot to do with inspiring me. He was working at a drum store, and every time I would come in, he would holler to me on the stairs, "You don't want to see what I got in today." Of course I'd see it and put it on lay-away. He had a jazz gig on the weekends with a conga player named Rich Tokatz, who is still one of my best friends. Rich and I would get together and play. I asked him to give me lessons on congas, but he said, "I'll show you things, but let's jut play." He helped me get a "pop" from my slap.
MD: Can you elaborate?
Tom: He taught me how to cup my hand and to not use all wrist. A lot of it is that action between your first knuckles and your fingers. Then he taught me a little slide. Then I got a chance to play with Phil Driscol. He was playing in the basement at the Chase Park Plaza in St. Louis, and when the band left, I got the opportunity to play with him. We went down to Memphis and met a guy named Charlie Chalmers who was in the original Memphis Horn Section. We recorded in Sun Studios, which was actually the first studio I ever recorded at. Consequently we got a deal with A&M. I went to California, but it didn't work out, and Charlie talked me into coming down to Memphis to record an album for a guy named Jim Post. On those sessions, there was a bass player, Bob Wray, and a guy by the name of James Brown Hooker, who is now the musical director for Nanci Griffith. They were from Muscle Shoals and they talked me up to Rick Hall, so they started flying me from St. Louis to Muscle Shoals to do some stuff. They didn't know you actually tune congas until I got down there!
MD: Since you mention it, can you elaborate on the tuning process?
Tom: Usually if you're playing two drums, you try to get a third or a fifth apart and make sure the drum is in tune with itself. You just have to check the tension by lightly putting your finger in the center of the conga head and then tapping with your tuning wrench around on the head, above where each lug is. You tune by ear to make sure the drum is pretty well the same pitch on every lug, with the same amount of tension, so you get a round tone. A lot of times you'll go in and just tune up the first song. In the jazz situation, my friend Rick had them set to a D and an A. It's really so the interval is pleasing to your ear. Advertisement
MD: And you tune from song to song?
Tom: I try to tune, for instance, so the congas will be sympathetic to that particular section of the song. Especially the low drum, the tumba. I try to not let it rub against the bass too much. It's self-preservation, so the part doesn't get dumped, as well as being polite to the bass player. There could be a situation where it would make the bass sound out of tune.
MD: How did the move to Muscle Shoals come about?
Tom: Rick Hall talked me into moving to Muscle Shoals, but didn't end up using me that much in the two and a half years I lived there. But Muscle Shoals Sound—Roger Hawkins, Jimmy Johnson, Barry Beckett, and David Hood—took me in and tried to get me on every session they could. They really helped me. I got to play with everybody, like on Art Garfunkel's Watermark album, the Staple Singers, and Millie Jackson. R&B is my first real love. Country music has become more of that now. Wynonna is as R&B as they get.
MD: Why did you move to L.A.?
Tom: I moved to L.A. mainly because I was hoping to play on records for people like Quincy Jones. Plus, I wanted to see if I could play jazz. I started in St. Louis playing little jazz gigs, but then the other things happened and I didn't get a chance to play jazz. The Paul Anka thing was from '75 to '81. Then I worked for a year with the Fifth Dimension and through that I met a bass player, Al Criado, who left to go with Don Randi at the Baked Potato. I would sit in, and eventually Don asked me to join. I played Wednesday through Saturday for about seven or eight months, but working for $200 a week playing jazz does not make a $1,200-a-month house payment in L.A. I got some money at the time and wondered where I should move. I thought somewhere near Muscle Shoals would be good, and Nashville was the logical place. Country music had not changed a whole lot at that point, but I was hoping that it would—and it has. I've been here thirteen years. Advertisement
MD: What are the changes you've seen for your instrument?
Tom: For a while, they were getting more into the machines, with keyboard players putting down percussion parts. Now I think we're called in more to make it feel less rigid and mechanical. They've already got all the machines on and a lot of times I'm replacing stuff. Suzy Bogguss loves percussion. I think I've done some of my best work on her records.
MD: Were any of those hits?
Tom: "Outbound Train." That's congas, tambourine, and all kinds of stuff. I've played on all of her records for at least the last five years. I met her when I first moved to town. She was playing at Tony Roma's, doing a single.
I think there is more opportunity for percussion now. A lot of people are moving here from all over. Michael McDonald just moved here and I recently reminded him that I hired him back in St. Louis for the high school prom. Michael O'Martian is here now, and he's a great guy to work for. There is a lot of new talent coming in. It's a real exciting time. Advertisement
MD: I understand that one of your biggest thrills was getting to play with James Taylor. How did that come about?
Tom: We originally met on a Mark O'Connor session. It was Eddie Bayers, Jerry Douglas, John Jarvis, Edgar Meyer, Mark, and me. James really liked the vibe, and at the end of the session he said, "I've got some venues coming up where this would be a great band," acoustic, unplugged before it became popular. A few weeks later, he called and Eddie couldn't do it, so he decided to just go with percussion alone. I knew I had to fill in a little bit of drumset, too, so I would have to do some woodshedding. I went back with Paul Anka the summer before rehearsals began in '89, and for a month and a half on the bus, I would be getting the brushes out. The one song I was sweating was "Traffic Jam" because of the brush work and the tempo. It goes along at a pretty good zip, and I hadn't played brushes that much in quite a few years.
All of James' drummers in the past had played percussion in parts of the show. I took the opposite approach, which was to play seventy-five percent percussion and twenty-five percent kit. I didn't have a kick drum, but I had everything else. At one point I almost decided to bring one out, but it was a different kind of vibe. A lot of times the volume level is determined by the sound of that kick. We had four singers who really loved the very intimate, quiet vibe with acoustic instruments. I was very proud of it. Every night James would come back and shake my hand. He knew this was a little out of the norm for me and he really made me feel that he was glad I was there. I still listen to those tapes from the live show, and I'd love to do it again.
In '90 and '91 I played with James with Eddie Bayers on drums at the Telluride Bluegrass Festival. It took a lot of pressure off of me, and I enjoyed myself even more on those things. Plus, I love playing with Eddie. Advertisement
MD: Why?
Tom: He and I have the same sense of where 2 and 4 are. I played with Roger Hawkins on a daily basis for years, and he really instilled in me my sense of time. I get to play with great drummers all the time. Paul Leim is another one. He has a different sense of feel, but we lock in real well because we listen to each other.
MD: What do you need from a drummer?
Tom: Obviously the time must be there. I think if a drummer and percussionist can really listen and sometimes talk about it, there can be a musical dialog. If we can see each other visually, that helps. Eddie and Paul are both very giving individuals. It's like we're having a musical conversation.
MD: What wouldn't you like from a drummer?
Tom: I think I have a low tolerance for two things—if their time isn't really in sync with my sense of time, that is bothersome because it not only affects me, but it affects the other players and the music. The other thing is if they tend to want to play a little too much and they don't give enough space for me to work within—that's tough. Advertisement
MD: You're talking about playing percussion in country music. You said you play a lot of shakers and tambourines. Is that to assimilate the hi-hat or to smooth that out?
Tom: On one Vince Gill song, "What The Cowgirls Do," I used a cabasa and a mounted tambourine that I played with a stick, doing them all in the same pass. Carlos Vega—another drummer I love playing with—was playing 2 and 4 with 16ths on the hi-hat, and it rocked; you get this "lopey" thing doing that. A lot of times the shaker goes along with the hi-hat. If they want more going on feel-wise, like 16ths, they'll usually ask me to do that.
MD: I would think if you were playing 16th-note shaker, and a guy were loping a hi-hat, it would be contrary to the dynamic you were playing.
Tom: It could be, so I might choose to do something else. I might choose to lay out in that one section. Knowing when not to play is really eighty-five percent of what I feel a percussionist is all about.
MD: Even when you grew up with busier music?
Tom: Playing disco was fun because that was before drum machines, when everything had live percussion on it. You got to play a lot more. I was down in Muscle Shoals, playing with Roger Hawkins, and there was never a question of whether it would be too much. Roger is rock-solid and simple, but he always comes up with these killer fills that are so simple and right for the part. Advertisement
MD: What about the Baked Potato? Didn't that afford you more of an opportunity to play?
Tom: Playing with Don was always fun. I hated to have to leave that gig. That was the one gig where I left on my own because I needed to move someplace else to make a living. It was such a great experience to get to play jazz at a packed house that is there to really hear you.
My wife got a job being a girl Friday for Quincy Jones and Peggy Lipton, and Peggy thought she was doing me a favor by offering me the job as his chauffeur when it came up. I thought about it for about five seconds and I said I couldn't. She was very upset because she thought it could lead to something, but I knew once anybody saw me as Quincy Jones' driver I could never be anything else. It turned out that I did more studio work in L.A. when I wasn't living there, because I came out to do Etta James, Roy Orbison, and a number of different things.
MD: There must be some readers thinking, "He left the Baked Potato to go to Nashville"?
Tom: It had everything to do with finances and having a better life. All I ever wanted to be was a studio musician. I wasn't emotionally ready for New York, and I moved to Nashville to be closer to Muscle Shoals, where it had begun to die down a little. In 1985, I went back to Tennessee State University to take piano and theory. I got straight A's and finished the whole year in one semester. I had studied piano from seven to twelve and then a year and a half in L.A. with Earl Hatch. I was all ready to start my second year of piano and theory when the phone rang. Luis Conte had been playing with Paul Anka, and when he left, Paul called me to go back. He was offering $400 a week more than I was making when I was with him before, and I was torn. Every one of the teachers said, "That's why all these kids are here; they're trying to get to the point where they can do that." Advertisement
I took the gig, and as soon as I went on the road I got a call from Tony Brown to do Nicolette Larson, but I couldn't do it. I said, "Man, I've been wanting to work for you for three years since I moved to town." He's turned out to be one of my favorite people to work for.
MD: What makes a producer good to work for?
Tom: The real key is to get the right players and let them play. The music originates from the writer of the song, but it's the musician who actually brings it to life. There are a couple of people who have come to town who nit-pick. At a certain point, it stops being music and becomes too much thinking and not enough emotion.
MD: I would imagine the more you are known, the more freedom you're given.
Tom: I'm not a fiddle player or guitar player, so there is a lot less competition. It was really neat because Garth Fundis, who produces Trisha Yearwood, put the first song up and I asked, "What do you hear"? He said, "Tom Roady." I said, "How about congas"? He said, "How about bongos"? I jumped back and said, "The B word! The B word!" The engineer said, "What are you talking about"? I said, "When I moved to town thirteen years ago, I realized you don't say the B word until someone in the room mentions it first." Advertisement
MD: Do you remember what song that was?
Tom: The album was Thinkin' Bout You. The song was "Fairytale."
MD: Can you recall any particularly special sessions?
Tom: The first time I was really, really proud of what I had accomplished—and the process by which it got accomplished—was the Art Garfunkel album Watermark, which we did in Muscle Shoals in 1978. He had come down with Paul Simon to do a reunion of "My Little Town," and for two days the Muscle Shoals guys talked Paul and Phil Ramone into using me on the tracks. After two days, they had to get to the Grammy Awards in New York, and at the end of the day, they pretty much gave me ten minutes to come up with a part. I put a conga part and a cowbell down and they seemed happy with it. Then the record came out and they put my idol, Ralph MacDonald, on it. I was honored in a way.
About three months later, Art Garfunkel came back down. He and Barry Beckett produced a solo album, and Art used me. It was all Jimmy Webb tunes. Art would get into every phase of what a player was doing. For instance, on one song, "Marionette," it was obvious there would be some wood things. I had bamboo and other things like that and Art said, "No, that's hollow-sounding. Marionettes are solid." Roger Hawkins had probably fifty worn down, beaten up 5B drumsticks, so I took some string, tied it around the beads of the sticks, and hung them across a couple of microphone booms. Now Vic Firth manufacturers these, but at the time I did this thing that was really cool. Art inspired me on a couple of other things with his suggestions. It was really a challenge, and when it came out, I was thrilled. It's one of the records I'm most proud of.
MD: Can you recall any particularly difficult sessions?
Tom: I did a thing recently that was a solo piano all in rubato [elastic-like time feel]. It was very difficult; it didn't have a natural feel to it. It was one of the first experiences for me to see what that medium is like, and it amazed me. We were cutting percussion, guitar, and bass, trying to follow this thing, and as long as we got in the general ballpark, it was okay because they fiddled with it and fixed it instantly. That was a little frustrating and not a lot of fun. There was no click and we had to listen to it and try to sync in. Advertisement
MD: Do you get a click in the studio or do you play off the drummer on overdubs?
Tom: I get the click, too. If the drummer is listening to a click, I feel we have to be in sync.
Slow shaker parts are hard to play, because you've got a lot of time between the front and back throws. The slower the tempo, the more arm you have to use. It becomes less of a wrist motion because you're having to go further away from your body. For a faster tempo, you're going to use a lot more wrist, finger, and hand control because you want to keep it tight and close in.
MD: You don't have that little ghosting effect when you just do that front throw?
Tom: Instead of playing to the mic head on, turn sideways so the mic is on either your left or right, at a ninety-degree angle from where you are. That way the mic will pick up the front and back strokes.
I recently did a Matt Rollings solo album, which was one of my favorite albums. It was with Abraham Laboriel and John Ferraro, and Nathaniel Kunkle, Russ's son, engineered. He's amazing. On one song, he tried to get me to play shaker where you really didn't feel the attack on either side, almost like a synthetic thing. It's difficult, but you have to concentrate to play electronic and digital percussion with the hands and the fingers—and with dynamics that are scary. I thought the technology hadn't been attained, but these guys showed me it was there. The coolest thing is it's a great way to play digital drums, and it's mobile. You can be out where the guitar player is and you can still be playing a groove. But it's more than that. It's a melodic instrument, too. It can be anything you want it to be. Advertisement
MD: Where does Nashville stand on electronics?
Tom: They're not used to seeing it. Paul Leim and all the drummers trigger to beef up their sound. That's about the extent. Other than that, they get into machines like a keyboard player sequencing. I'm gradually trying to work the Zendrum into the scene here. It's a very major part of my career at this point. I love it. People are going to be amazed at what it can do.
MD: If Nashville is a little show on the take, what role does this instrument play in your life?
Tom: Hand drums are my first love, and that's what I do for a living. I hope I have at least another fifteen years to be able to play in the studios and on records. I want to produce my own music, and I think the Zendrum is going to allow me to do that. Futureman—Roy Wooten from the Flecktones—and I are going to be getting together to play. We'd like to do some clinics. It's amazing, everybody who picks up this instrument plays it differently. That's what's so great about it.
MD: Finally, what do you think is essential to a successful career?
Tom: Obviously talent and the ability to do the job, but your attitude and personality have a lot to do with it. Friendships are important. I've gotten more work from friendships I have with engineers, assistant engineers, and musicians. You have to be able to get along with people, and you can't lose sight of why you're playing music. You're playing music because you love music, and if someone is paying you, you're a thousand percent better off in the game. You have to love what you do and thank God for it. Not every musician can make a living playing music. I think I'm one of the lucky ones. Advertisement
Original interview by Robyn Flans.