<i>Rifftide: The Life<br>and Opinions of<br>Paoa Jo Jones</i><br>As Told To Albert Murray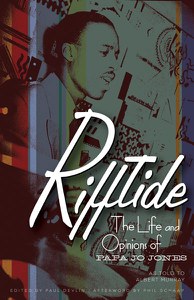 BOOK
LEVEL: ALL
$18.95

Jonathan David Samuel Jones, aka "Papa" Jo Jones, was the father of modern jazz drumming. By way of his groundbreaking work with Count Basie's big band, first in 1934, then between 1936 and 1944, and again from 1946 to 1948, Jones changed the drummer's function from that of foursquare timekeeper to sensitive accompanist. As a section player, Jones moved away from the four-to-the-bar bass drum beat and a rudimentally oriented concentration on the snare drum to an emphasis on the hi-hats—and later the larger "ride" cymbals—generally characterized by a lighter concept that was totally new to drumming.
Maybe the late Whitney Balliett, deemed "the poet laureate of jazz," said it best when he wrote that Jo Jones was "the man who played like the wind." If Gene Krupa made the drums a solo instrument, Jo Jones made the drums a musical instrument.
Rifftide: The Life and Opinions of Papa Jo Jones is a modest work, as charming, quirky, and enigmatic as its subject. The book is based on a series of interviews with Jones that renowned writer Albert Murray conducted between 1977 and 1985. The tapes languished within Murray's archives until a twenty-one-year-old college student named Paul Devlin, who worked for Murray mainly as a gofer, became aware of them and ultimately received Murray's permission to transcribe them for possible use in a book. By his own admission, Devlin, a non-musician, knew nothing of Jo Jones prior to getting started on this project. Advertisement
Tremendously literate and well-read, Jones was a storyteller, righteous philosopher, and spinner of all manners of tall tales, though according to some who knew and worked with him, he was difficult to know and could be even more difficult to like. Several players simply avoided him. Others characterized him, especially later in life, as "mad." At the very least, Jo Jones kept his own counsel.
There's a good deal of boasting and tale telling within this narrative, and names are dropped by the dozen. But readers seeking revelatory insights about the personal and professional lives of the many legends with whom Jones worked—and the secrets of Jones' playing style and evolution—should look elsewhere. While he does speak of Duke Ellington, Basie, John Hammond, Ella Fitzgerald, and a bunch of others—he was particularly hard on Butch Miles, who was drumming with Basie when Albert Murray recorded these tapes—there's not a tremendous amount of depth to his comments. Drummers particularly will be disappointed, as there's very little in this book about drums, drummers, and drumming, and there is no discography or filmography.
Though it's easy to fault Murray for what's missing here—he did conduct the interviews, after all—Jones simply didn't answer questions in the conventional sense. He just talked. And talked. Ultimately, some information is to be gleaned, though never easily. Advertisement
One suspects that Jones, who came up in the world of carnivals, medicine shows, and Vaudeville, kept his bag of show business and musical tricks to himself—as most show people did back then—lest someone steal their secrets. Thank goodness his playing spoke for itself. And fortunately, we have the utterly remarkable audio recording from 1973 called The Drums by Jo Jones, where the master opens up musically and verbally about everyone from Baby Dodds to Krupa. There's some great Jones on video as well, available from JazzLegends.com.
Rifftide is not without its merits. An invaluable and lengthy afterword by jazz historian and broadcaster Phil Schaap, who knew Jones for thirty years, makes the man and the musician come alive. Schaap accurately explains Jones' art and contributions, and sensitively deals with the issue of his irascibility and his sometimes difficult interactions with his fellow musicians. Schaap clearly loved the man.
There have been other, sadly aborted attempts at an autobiography of Jo Jones, spearheaded by the likes of John Hammond, Preston Love, and Linda Kuehl. And in 1973 Milt Hinton conducted an extensive interview with Jones for the Jazz Oral History Project. While that interview can be accessed at Rutgers' Institute of Jazz Studies in Newark, the fact that the Project was NEA funded prohibits any profiting from the tape or the text. In other words, we'll likely never see that in book form. Advertisement
Rifftide doesn't pretend to be anything other than it is, and disappointments notwithstanding, there is a good deal of charm to Jo Jones' wit and wisdom. As Phil Shaap suggests, "While the stories might be amusing, what makes them important is the fact that Jo Jones is the greatest drummer who ever lived. That's not just me talking. I stole that line from Max Roach. Every honest percussionist has quoted it, too." (University of Minnesota Press)
Bruce Klauber