Legendary Percussionist Ralph MacDonald Passes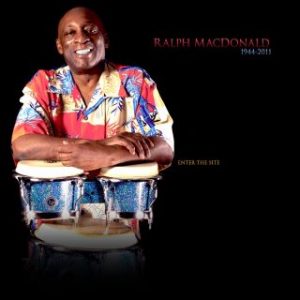 Ralph MacDonald, a Grammy-winning writer, producer, and percussionist who worked with an enormous number of top musicians over a fifty-year career, passed away on Sunday, December 18, from complications stemming from a stroke he suffered several months ago. MacDonald, who also battled lung cancer late in his life, was sixty-seven years old.
In addition to being one of the finest percussionists in the world, MacDonald was a successful producer and songwriter. Among his most famous songs are the 1972 Roberta Flack/Donny Hathaway hit "Where is the Love" and the 1980 Bill Withers/Grover Washington vehicle "Just the Two of Us." MacDonald also recorded several solo albums.
This year the town of Stamford, Connecticut, where Ralph lived for the past thirty-five years, honored him by proclaiming July 27 Ralph MacDonald Day. Until his health issues made it impossible to travel, Ralph toured regularly as a member of Jimmy Buffett's Coral Reefer Band. Advertisement
MacDonald is survived by his wife, Grace, and four children, Nefra-Ann, Atiba, Anthony, and Giovanni. The staff of Modern Drummer sends its condolences to MacDonald's family and friends.
Watch MD's 2008 video interview with Ralph here.