Def Leppard's Rick Allen: Perseverance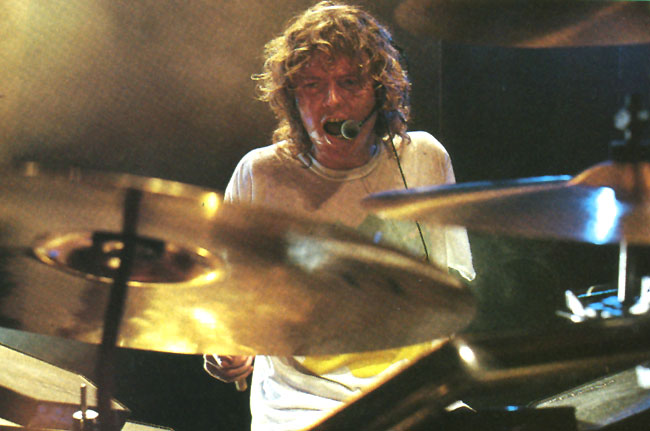 This article originally ran in the March 1988 issue of Modern Drummer magazine. For access to all of the great editorial from MD's first twenty-six years of publication, check out our Digital Archive.
"Perseverance. I guess that would be the biggest thing I learned about myself. But I suppose that had a lot to do with the strength of those around me. They really didn't give me a choice; I had to stick around and deal with it."
The thoughts are those of Rick Allen, drummer with Def Leppard. The topic concerns the aftermath of a tragic car accident in the winter of 1984 that cost him his left arm, but ultimately provided those who watched and waited throughout the ordeal with a remarkable example of the resilience of the human spirit. The loss of an extremity would be traumatic for anyone, but for a drummer, it's an event of nightmarish proportions. Rick emerges as the sort of person who plays down what has come to pass over the last three years, diminishing what has and probably will always be the greatest challenge of his life. "In a sense," he says, "when I lost my arm, it wasn't such a big thing for me to deal with. I just confronted it, went through it, and sort of came out on the other side." Advertisement
One of the positives that surfaced directly because of the incident was the resurgent passion Rick discovered for drumming, realizing that, while he could cope with the ramifications of the injury, he was unwilling to sacrifice his involvement with the drums. He set out to reprise his role in Def Leppard, and has done so with incredible results.
Last summer, after a four-year absence, the band released its most ambitious effort to date: Hysteria. In true Def Leppard form, the songs feature the group's trademark mellifluous vocals and visceral guitar leads, and imparts with is perhaps the most robust and effective percussion of any of their albums.
Rick has proven that he still had the technical savvy to more than sufficiently resume his role as Def Leppard's drummer, but there were still many unanswered questions. Would he be able to play live? Would he have to fall back on using tapes for a show? What kind of kit would a one-armed drummer play? Advertisement
Naturally, trepidation was high while expectations for his future ran low. Most people thought it impossible for a one-armed drummer to cut it live, while others thought it, at best, a well-intentioned but scarcely plausible long shot. But what now prevails is that Rick Allen is as whole a drummer as he is a person. If you attend a Def Leppard performance, close your eyes for a moment. Listen closely to the drumming. What you'll hear is not a drummer minus an appendage, but rather a musician playing his heart out. The Thundergod—as he's referred to—has returned.
But getting back had its share of problems. Immediately after the accident, doctors tried to re-attach the arm, but because of complications, the attempt proved futile. "I was still unconscious at the time, so I didn't know anything about it," Rick recalls. "They wanted to re-attach it, but an infection set in, and because it was so close to my heart, they didn't risk it. Looking back, the doctor told me that if the re-attachment had been successful, I would have been going back for operation after operation. I wouldn't have wanted to go through that. I suffered enough pain, both physically and mentally."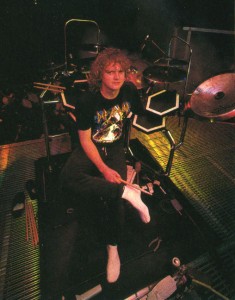 When he was informed of the extent of his injuries, Rick was pretty overwhelmed by it all, and he admits that he was a little confused about the incident at first. But as he rapidly began recuperating, he accepted his fate and began dealing with the inherent problems that lay ahead. For Rick, the most crucial matter was how he would resume the one activity that meant more to him than ever before: drumming. Advertisement
"When they first told me what happened, I don't think I fully understood the situation," he explains. "I don't think the permanence of my condition sank into my head until maybe two or three weeks later. But to be honest, prior to the accident, I hadn't actually played my drums for about a month or six weeks. I was getting very blasé about playing, but when I was in the hospital, one of the first thoughts I had when I came to was that all I wanted to do was play my drums again. That seems a bit strange, seeing that I had been so lazy about my playing."
His energies were quickly channeled into coming up with a revised way to play drums. Ideas that were devised right in his hospital bed became the genesis for his pedal-oriented, all electronic drumkit. "The hospital staff put this big piece of foam rubber at the foot of the bed to stop me from sliding down," he recalls with a broad grin. "I could push myself against it to hold myself up, and as I sat there, I eventually started tapping away on it, thinking, 'Yeah, that could come in handy….' I was working ideas out with my feet. I got my brother to bring down my stereo system, and I started playing all my favorite albums again, as I sort of tapped along to them. There were a few things that were a bit difficult because I had only played a single bass drum, so it took a lot of concentration to get my feet working right.
"Anyway, about three weeks after the accident, I took it a stage further and approached a friend with any idea of using pedals to operate my kit, and he actually built me a prototype pedal. I started trying it out, and I figured, 'This is going to work. There's no reason why it can't.' Advertisement
"Cosmetically, the look of the kit hasn't really changed all that much," he continues. "But obviously, technology-wise, I'm exploring other paths. I'm getting into different kinds of equipment, but basically it's down to the sound now. And my playing is getting better month by month the more I do it."
It is quickly obvious that Rick has an exceedingly optimistic nature when it comes to achieving his objectives. But it is still rather startling to discover that he never once pondered, "Could this be the end of my career"?
"I didn't really give myself a chance to do that," he explains. "They told me that I was going to be in the hospital for six months, but I was so determined to get out of there that I left after about only three and a half weeks. All I wanted to do was to go back and be with the band again, you know? And they were saying, 'We don't see any reason why you can't play again.' So I said, 'If you feel that way, then I'll give it a go.' So I just fit back in and worked around it. Advertisement
"But not being able to play again never really crossed my mind. I was never going to be a brain surgeon or anything, so I figured that playing drums was the only thing I could do. But it's like anything: When you're thrown in at the deep end, you really have to swim, and this was a classic case of having to do that. I don't think I ever doubted that I could do it. I was just being as positive as I could.
"Going through what I did made me a stronger person," he comments, when asked if he's always been so determined. "But if you knew the rest of the guys, you would understand why. Def Leppard is a very close-knit unit—not just the band, but everybody concerned with it. Everybody was just saying, 'Come on now, Rick. You can do it.' And literally thousands of letters from people all over the world came in.
"So six weeks after the accident, I was back in Holland working with the band again. And they were a helluva lot happier about things because I was there. They weren't worrying, thinking, 'What's going on in Rick's head?' In fact, I felt more at home being with the boys than I would have been sitting around on my ass, doing nothing. I just felt, 'This is where I belong.' Obviously, there were moments when people got really emotional about things. It wasn't all smooth sailing, and sometimes it got quite difficult. Advertisement
"It was frustrating for me, as it still is, in that I can't play what I think in my head anymore. I have to be more thoughtful about what I do. It used to be that I could pretty much play whatever came into my head. But now, it's slightly different. I have to think ahead a lot more about what I'm doing."
But because his drumming now requires a more premeditated approach, does Rick feel that his overall playing is actually better? "I think there's a lot of truth in that," he replies. "I've consciously worked to improve things that I was a little bit inadequate in. My timing, for instance, has never been better. I used to be a very speedy player, and when I played live, the songs were twice the speed that they should have been. I was under the impression that if I played it faster, it would sound more powerful. Obviously, that isn't the case at all. The singer can't fit his words in, and everybody's yelling, 'What the hell are you doing, Rick?' [laughs] But now I've got the ability to actually relax while I'm playing, and I play with a lot more thought and feeling.
"Joe and Sav [singer Joe Elliot and bass player Rick Savage] said something in an interview yesterday that we would never say to one another. I mean, we'll never say, 'I really like your bass playing,' or 'I really like your singing.' But at this interview they said, 'We actually think Rick's a better player than he was before.' What can I say? Advertisement
"There was a time," Rick adds, "when there was some doubt about my ability to use my right arm. The doctor said, 'You're not going to be able to wave again, Rick.' So when I came back to the hospital one day, I went, 'How ya doing, Doc?' [waving wildly] Hypothetically, if I hadn't been able to use the arm, I would have taken it upon myself to have found someone suitable for the band. Yesterday I said that very thing, and Sav turned to me and said, 'We never really thought about replacing you. It never came up.' The thoughts that were going through their minds weren't selfish in any way. They were concerned with whether I was okay. They figured, 'He's alive, so that's the big thing. And whatever he can play on drums is a bonus. If he can sit there and just knock out a beat, then great!'"
If there were any lingering doubts concerning Rick's abilities, all skepticism was buried when the band's summer '86 mini tour got underway. Playing the major festivals on the continent and in Britain, as well as at some obscure pubs in remote areas of Ireland, Rick proved that his presence was not perfunctory—that he was not merely sitting there, knocking out a beat. Although there was a backup drummer employed to help out for the first few dates, it quickly became apparent that Rick could excel without assistance. "We had done a few warm-up dates in Ireland," he explains, "with a few dates in a place called Ballybunion lined up. Jeff Rich, who plays with Status Quo, had been sitting in with me, banging away at an acoustic kit, while I was playing my electronic kit. If I made a mistake, I knew that I could rest on him, so that was really helpful for my confidence in the beginning.
"Jeff had to do some dates with Status Quo, and missed his flight back to Ballybunion for the night of the show. I used to play the first two songs by myself anyway, so that people knew from the start that I was actually playing, so I just went ahead without him. But halfway through that show he came bursting through the door, jumped behind his kit, and we were off again. I didn't play the whole show by myself, but I did play half of it on my own, so it was a nice progression. Advertisement
"The night after that," Rick continues, "we were playing in this pub in Waterford. The stage was so tiny that we couldn't fit two drumkits on it, so we thought, 'What do we do, hang Jeff from the ceiling?' We finally decided that I'd do the whole gig on my own. So Jeff stood out at the front desk and I just did what I do best—basically kept time and didn't get too clever. Jeff came over to me at the end of the show, shook my hand, and said, 'Well, I guess I'm going home tomorrow, then?' And that was really the first step."
Later, at that summer's Castle Donington Festival in England, Rick experienced an emotional and professional turning point that, he says, will loom forever in his memory. "Donington was the first big show that we'd done," he says. "At the beginning of the set, we do a song by Creedence Clearwater Revival called 'Travelin' Band,' which we've been doing for years. In the middle of it, Joe announced to the audience, 'Rick Allen on the drums!' And all the people in the field started cheering and waving their arms in the air! I've never seen anything like it—something like 75,000 people acknowledging me!
"My mom and dad were on the left side of the stage, plus there were all these people in the wings going absolutely apeshit, and I was sitting there crying all over my pads! I was thinking, 'Hell, I'm going to get an electric shock or something!' [laughs] But I felt a lot of respect at that moment, not just from the audience, but from everyone connected with the band, because they were all watching me—checking me out. That day was unbelievable. For me, that confirmed that people were really behind me and wanted me to succeed. It was so exciting—a brilliant high point for me. I'll never forget that show!" Advertisement
There are those who would be satisfied just to hear Rick in the capacity of timekeeper. Therefore, does he ever feel added pressure to exceed simple expectations? "Let's take it from this angle," he replies. "At first, the rest of the band would listen to me play and say, 'It sounds good to us.' But I always got the tiny impression that it was really, 'Well, he's only got one arm.' But now, if I do something wrong, somebody will turn around and say, 'You're doing it wrong.' Or they'll tell me that I'm playing too fast or too slow. That's what I need now. I need people to give me constructive advice about my playing, rather than [in a wimpy voice] 'Whatever Rick can play is fine with us.' I don't need that kind of sympathy. Not at all.
"Getting back to the Donington gig," Rick continues, "there was this one guy who approached [guitarist] Phil Collen and said, 'Why is Rick using tapes?' And Phil told him, 'He's not using any tapes; he's playing everything!' There's no reason why I should lie about it. If I want to use a drum machine or whatever live because I'm having a few problems playing something the way I'd like it to sound, then I'll do it and I'll admit it. I'm not afraid to do what needs to be done to get the right sound. I just have the attitude that it's going to take more time to get it all where I want it to be. It's only been a couple of years since the accident. I realize that I can't physically play everything I could before. But at some point, it's going to get really nice for me, and I will become more satisfied with my playing. I just want to squelch the rumor that I'm using drum machines or tapes: I am not. I'm having a bit of trouble with the odd song here or there that would be easier with programming, but I don't think anyone would condemn me for not being able to play all of the parts."
One of the tracks from Hysteria that features layered African rhythms is "Rocket." Rick describes it as sounding like "the whole of the jungle playing all at once," and because of the intricacy of the programming, he has not attempted to simulate the song in a live situation because it would require tapes. But given Rick's enthusiasm for new technology and further playing proficiency, it would be no surprise if he masters the tune, as he's done with the bulk of the live material. "That song really needs a lot of production treatment to carry it," he comments. "Now we'll have to figure out a way to do it live, but I suppose even a two-armed drummer would have trouble playing it! Since I'm learning something new about playing the kit every time I sit behind it, who knows? Maybe in six months or so I might be able to do it. But right now, I'd have to use quite a complicated program. I would rather just play what I have to play, and not rely on too much technology to pull me through." Advertisement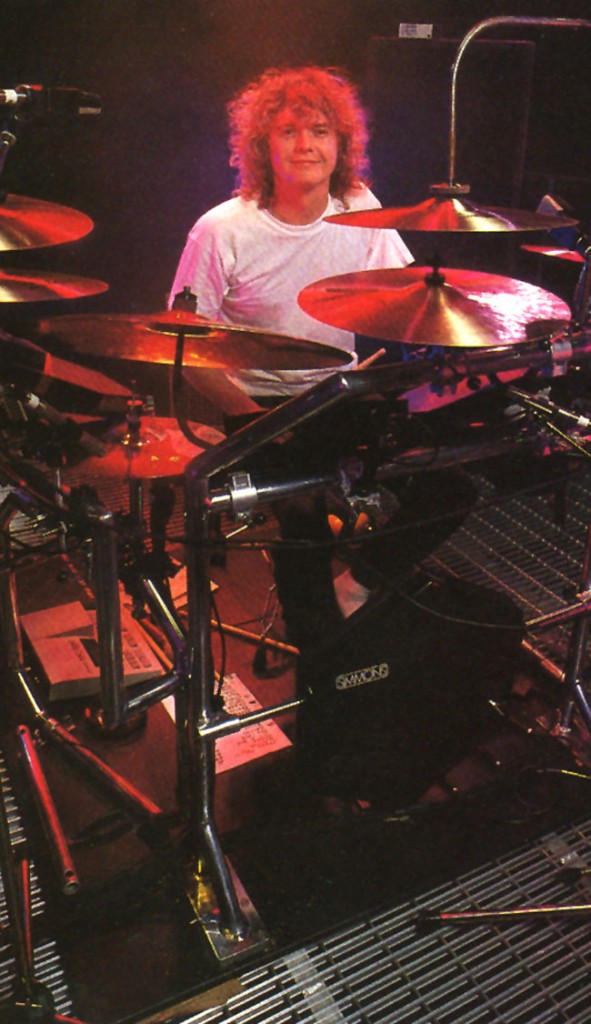 Judging by Rick's aspirations for future progress with his playing, it's apparent that he is not satisfied with simply reflecting on the process he's made over the last few years. Instead, he is striving to develop himself as a drummer of broader scope, not only through fortification of his kit, but also through studying.
"What I should do is get my head into studying more. If I'm going to play drums with one arm, then I've got to be really good at it," Rick says, taking a drag on a cigarette. "I met Danny Gottlieb a while ago, and he's done a lot of studying with Joe Morello. Danny showed me this technique that allowed him to play more with one arm than I could play with three," he laughs.
"As long as I can play drums with Def Leppard, I'm very happy. I can sit back there and get buried in the music, and have a really good time doing it. But at some point, I think I want to have the ability to go a little bit further than that, and I want to go back and study. You see, I've spend all my time since my fifteenth birthday playing with Leppard. And all my energies, concentration, and efforts drum-wise are purely for Def Leppard songs. It would be nice at some time to break out and study some different styles." Advertisement
Rick did study briefly during his formative years with drummer Kenny Slade (Joe Cocker), but most of his skills have been self-taught. "Kenny only taught me the basics—like how to count to four," Rick chuckles. "But as soon as I started playing with bands, I began listening to other drummers and copying what they were doing. I'd sit with headphones on and play along with Ian Paice. That's pretty much how I learned to play—not much studying. But it would be nice to go back and try again."
What areas would he seek to strengthen? "I would want to work on my right arm, obviously. If I drop a stick, it's like, 'Oh no! Get me another stick! Fast!'" he laughs. "Whereas before, when I had two arms, I could go across and start playing the hi-hat with the left hand. And it's the detail that I miss out on, which I get to add with the machines, but it's not the same as playing the detailed parts. I would like to be able to play the things that I program a lot cleaner, a lot more precisely. I'm super-critical of myself, and I tend to see the weaknesses, but I'm also realistic and know that I can strengthen my weaknesses. So to study with someone from a jazz point of view and then take that back and apply it to Def Leppard would be exciting. I've just got to get past the lazy attitude I have when it comes down to actually doing the studying.
"Slowly but surely, I can feel it's starting to get a lot better," he continues. "It's not there yet, but the more I play with the band, the more confidence I'm going to have, and by the time the American tour is finished, I think there should be a big difference." Advertisement
At just twenty-four, Rick's done a lot of living by most people's standards, and he possesses a maturity far beyond his years. "I must admit, I do feel a bit lived in," he quips. "But I don't feel physically unfit at all." How does he stay in good physical condition? Among other activities, he prepares himself before shows with a series of warm-up exercises, which he says truly limbers him up. "Basically, I grab hold of about three sticks and I do this technique that I actually saw in Modern Drummer to help loosen up the forearm. You stand against a flight case and stretch the muscles on the inside of your forearm by pushing against the surface of the case. This stretches all the muscles underneath. After you've done that for a while, you do it the other way—pushing the back of your hand against the top of the flight case, trying to get your arm as vertical as you can. It relaxes the muscles on the inside of the arm and stretches the ones on the outside."
On the subject of staying healthy, has Rick altered his lifestyle over the last few years, in response to the accident? "I think I have a bit," he says. "I still have fun and I still take a drink, but I think I'm a lot more aware of what I do to myself these days. I'm not quite so irresponsible as I used to be. I guess all aspects of my personality have been strengthened somewhat."
One thing he's had to strengthen himself against is people who sometimes make more out of his injury than necessary. "I've gone through this thing and lived with it for a while now, and I actually watch for people's first reactions, because weirdness turns me off immediately," he says. "I don't get annoyed by the attention as long as people don't ask me really silly questions about the accident. When it comes to almost anything else, I've got all the time in the world for them. But I'm used to my situation, and I'm not a different person in my own head. I'm completely relaxed about it." Advertisement
His bandmates certainly agree with that, and they treat him just like one of the guys. "The lads have begun to make fun of me a lot more now, which I don't mind," he laughs. "Like I'll be wearing my hat on stage, which I do occasionally, and one of the guys will steal it right off my head, and then he'll put it back on me in some stupid position so I'll look totally ridiculous. They do silly things like that for a laugh, which is nice because I like to make people laugh."
After a slight pause, Rick concludes, "If I can make someone happy with what I do, or if I can inspire people who have a problem in some aspect of their life, then I feel good. I'm sure if people who are having a rough time see me playing drums one night—no matter how bad their problems may seem—they're going to go home thinking, 'If he can do it, then I can certainly do it.' And that's basically where I'm coming from."
The website Main Event Specials has compiled a comprehensive list of Def Leppard Tour & Concerts schedule, studio albums, tours, facts and more. Check it out here.
Original interview by Terri Saccone. Photos by Ross Halflin.