Dan Brill of Czar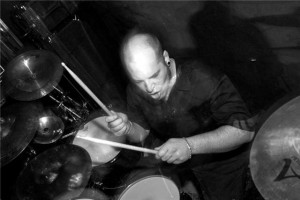 Hello, Modern Drummer readers. My name is Dan Brill, and I am honored to contribute to MD's blogs.
In January of 2009, my band Czar formed almost spontaneously. A lot of our songs originated with loose, fragmented drumming ideas of mine. Complemented by Jason Novak's deft riff-writing and programming skills and Brian Elza's more ethereal guitar playing, these ideas turned into jams we all enjoyed playing. We had no choice but to run with it. Czar allows us to explore and experiment, creating music that comes from our metal-loving hearts.
Before Czar I played in Acumen Nation, a revered Chicago industrial band. Touring and recording with the band for the better part of a decade was a great education for me, and also gave me the opportunity to hold down the drums in Revolting Cocks, an industrial supergroup comprising members of Ministry and Front 242. Czar would not be possible without those amazing years and my intense experiences in the industrial scene.
By day I give drum lessons, and I consider myself lucky to be doing so. Not only is it a way to hone my skills by helping others find their voices through the drumset, but by honoring each student's individual perspective, my own perspective constantly evolves. In this way, my students are teachers as well, making sure that I never stop learning. I also currently study tabla with the virtuosic Kalyan Pathak. His pioneering application of Indian syncopations to the drumset is inspiring. Tabla requires me to always vocalize what I play, and that vocalization better connects me to the music. Advertisement
I also play with the Chicago Highlanders Pipe Band's Drum Corps. CHPB is an award-winning competitive bagpipe band recognized by the Midwest Pipe Band Association. The demanding and highly finessed snare drumming technique used with the CHPB Drum Corps (we use traditional grip in the corps, while I use matched grip on the kit) continually challenges and rewards me. Discipline and commitment are paramount in CHPB, as my talented corpsmen often remind me. Creative freedom through discipline is where it's at for me, and that carries over into Czar organically.
Until next time, thank you for reading, and please enjoy our music.
For more on Dan Brill and Czar, go to www.cracknation.com/czar