CJ Burton with Air Supply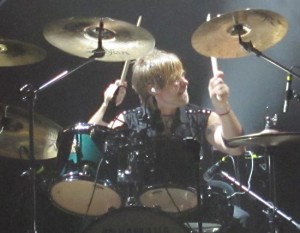 Greetings, everyone! It's an honor to be part of this Modern Drummer blog experience! This is a perfect way to share my musical existence with the greatest audience on the planet. So, welcome, and thanks for checking out my very first entry here!
I'll begin by saying that it's been a very busy year! This year alone I've toured throughout Asia, South America, China, Canada, Mexico, most every state in the USA, and in September throughout Israel, England, and Ireland.
The musical adventure keeps going, which has led me down many interesting and exciting roads. I've been more than blessed over the years to play with some of the best cats around in my home city and on the international tour circuit, which I'm currently on with the legendary group Air Supply. This year's journey has been filled with many amazing highlights and so many great snapshot moments. Advertisement
One of the major highlights from 2011 was a recent tour through the holy land of Israel, where the Air Supply show was filmed for a live upcoming DVD release. The concert was shot at an outdoor amphitheater called Sultan's Pool, located in the center of Jerusalem. Being one of Jerusalem's primary outdoor arenas (and an ancient water aqueduct remnant dating back to the Ottoman Empire, hence the name), Sultan's Pool has hosted such artists as Sting, Tom Petty, and Bob Dylan to Israel's own symphony. There is such a charged energy surrounding this place. It was that very energy that really set the vibe of the evening and that super inspired performance.
It was simply a magical night of playing, and I'm proud to say, from a performance point of view, it was a show where everything flowed together very well! There was an all-around synergy between the audience and the band, and such a great connection on stage throughout the night. By the night's end, I knew that show was something very special, and I'm certain Air Supply fans all around the world will indeed enjoy it.
The DVD, along with the accompanying live album, is currently in post-production, and is scheduled for release sometime in 2012. Really looking forward to sharing it with everyone!
Also, among other things, please feel free to drop by my new website, CJBurtondrums.com, or find me on my official FaceBook page under CJBurton|drummer. Our merch inventory on the website will be up soon, of which we will be donating a percentage of sales to St. Jude Children's Hospital. I will keep everyone posted on the progress. Advertisement
There's much more on the horizon, which I will save for another entry. That's all for now, though. As always, a heartfelt thank-you for your love and support. It's always nice to hear from people and to make new friends on the road. Hope to see you soon.
For more on CJ Burton, go to www.CJBurtondrums.com or www.Airsupplymusic.com. For professional correspondence, email Streamlinetalent@gmail.com.