Stephen Perkins of Jane's Addiction Discusses His Forthcoming Art Collection, Time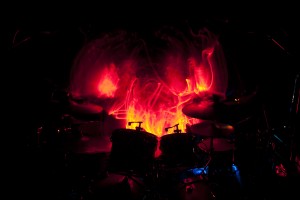 On November 15, Jane's Addiction drummer Stephen Perkins will present his first foray into the world of visual art with Time, the second collection in the Art of Drums series. Drums is the brainchild of SceneFour, a Los Angeles–based creativity house that has worked with RZA of Wu-Tang Clan, Chuck D of Public Enemy, and Bootsy Collins. Guns N' Roses/Velvet Revolver drummer Matt Sorum was responsible for the first collection, and Def Leppard's Rick Allen and P-Funk's Frankie "Kash" Waddy are among the other drummers slated.
Learn more about Time at TheArtOfStephenPerkins.com.