Outlaw Drums, Hand Built From Reclaimed Houses and Barns, Announces Snare Drum Giveaway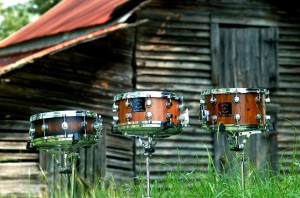 Michael Outlaw (yes, that is his real name) is happy to announce that one lucky person will win one of his incredible handmade drums. The specific drum being given away will be the premium "weathered" snare drum, priced at $950.  This drum's unique finish was created by over 150 years of sun, wind and rain.
"It is my pleasure to present a 13"x5" weathered snare drum. If one were to ask me to describe the sound? This drum has a crisp clear pop at the high tuning and low warmth sound when tuned lower. It produces great dynamic range that I believe is linked to the tightness of the wood's grain pattern. In addition, there is no bending or stress imposed on the drum shell that multi-ply and one ply shells offer. Less glue is a big factor. Stave shells use less glue and are therefore more resonant. The drum stays in tune longer, resulting in a more stable, even sound because of the lack of vibration. The thickness of the drum is about ¾" thick, giving it a more solid fast attack."
Michael Outlaw, a custom furniture builder and avid drummer, was riding through Albany, Georgia one day and stumbled upon an 1880's plantation home being torn down, and asked the contractor if he could have some of the wood. The contractor said yes, since it was going to be hauled off to a landfill anyway. Michael loaded his truck up with as much wood as he could before the dump truck got back to take it away. When he returned to his shop, the beauty and the aroma of the rare wood inspired him. He wanted to build a snare drum that was different, and this heart pinewood was the perfect fit. Advertisement
Ever since that day, he has continued to search for more opportunities to reclaim this old wood from barns, houses and mills built before 1900 to make his unique Outlaw Drums. With these drums, you are getting a piece of history, not just an instrument. Outlaw Drums, with their stave construction, precise 45 degree bearing edges, and 300-500 year old wood, offer the most unique tones, pitches and sounds you will ever hear.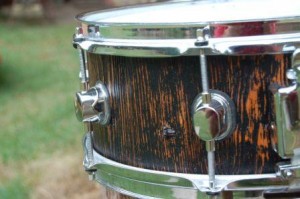 Entries may be submitted through November 30, 2011 at: http://www.facebook.com/pages/Outlawdrums/139387402815022?sk=app_165675160160302
Don't miss this opportunity to get a musical instrument unlike any other!