Chris Gartmann of 3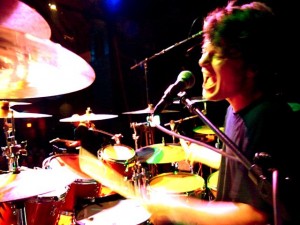 Hey, everyone! This is Chris "Gartdrumm" Gartmann from the band 3. I'm very excited to be blogging to you from the MD home page and also very much pumped about our new record, The Ghost You Gave to Me. Simply put, it's our best yet!
Stylistically this record covers a big part of the rock spectrum, going at times from metal to prog to hard rock to pop, so it was a blast to record and important to keep a thread throughout the thirteen songs. Based on the reviews this record is getting, people are diggin' on the playing and compositions, so we're psyched!
Personally, I grew up listening to classic rock and segued into fusion, new wave, and grunge. I landed in a hybrid progressive rock band that we think is both very original and contemporary. I try to draw on the groove sensibilities of greats like Steve Gadd and Jeff Porcaro and the power and pyrotechnics of the likes of John Bonham and Billy Cobham, all the while giving it a modern twist, making it my own. Advertisement
Modern Drummer has always been part of my arsenal; I really dig it and still have my John Bonham commemorative issue! Please check out my band 3 on tour and our new record, and let me know what you think!
3 will be on tour across North America in November with Cynic and Scale the Summit. Specific tour dates can be found at www.theband3.com. To watch a clip of Chris playing, go here: www.youtube.com/watch?v=V57m01QF8A4&feature=youtube_gdata_player.