AWOLNATION's Hayden Scott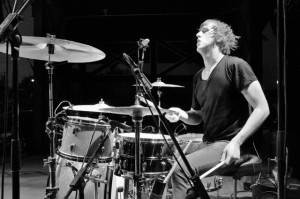 Hello to the Modern Drummer world! This is my first time contributing to the drum community with a blog. My name is Hayden Scott. I'm tall, Australian, and friends sometimes call me The Shark. I like to play drums, a lot.
I am currently on tour with AWOLNATION. The band just went gold in the US and platinum in Canada for the single "Sail." With our recent success, we did a number of live televised performances, including a spot for MTV Canada, Jimmy Kimmel Live, and The Tonight Show with Jay Leno. Most recently we played the Austin City Limits Music Festival (Austin rules, so obviously the festival kicked ass!) and opened two nights for Incubus. We are now on our Fall Harvest headlining tour, followed by a month of radio shows to close out 2011. Work, work, work!
My job In AWOL is simple: Know the songs, nail the parts, and contribute positively to the band's working environment. I do my job, and I love it!
When playing with AWOLNATION, I lean myself stylistically toward hip-hop. I keep the show moving—I don't want people to stop dancing. My fills are all pretty basic subdivisions because there isn't the room (or need) to wank myself with sextuplets every four measures. I focus on meter, consistency, and playing the right part. I play with a sense of authority—so I use big drums—and I dig in. But the feel of each groove is always priority #1. Advertisement
Favorites: "Guilty Filthy Soul" and "Sail." Super tasty grooves, but I can throw a more rock 'n' roll swing on it. The majority of the record is actually programmed drums, though "Soul Wars" was recorded by Tony Royster Jr. There's some pretty fancy stuff on that track for the drum dorks to check out.
I also play drums in the New Regime, the solo project of Ilan Rubin—a monster musician and very good friend. I met Ilan in 2008 and started playing with the New Regime shortly after. Ilan has an outstanding approach to the drums, and that was the biggest factor in my involvement—I wanted to learn everything I could from him. Over the years and as the project has developed (along with him teaching me a bunch of cool tricks), I've found my own identity playing his songs. Ilan doesn't dissect the parts and say, "Here ya go, do it like this." I'll ask him, "Hey, man, what did you think of this fill…or that tom thing…blah blah," and his response is, "I didn't notice—you sounded super solid, and that's all that matters." Although the New Regime show is on a click and very well rehearsed, for most songs there is only a click—no [sequenced] track, so we extend parts and try new things here and there. It's spontaneous and exciting. My two favorites are "Radiate the False" and "Tap Dancing in a Minefield." Both have plenty of blazing tasty drum parts.
The drums I use are made by the Q Drum Company, which is owned and operated by Jeremy Berman, former head drum builder and artist relations director for Orange County Drum & Percussion. Jeremy does amazing work and is a legendary dude. I'm using a clear acrylic drumset in 28″, 14″, 16″, and 18″ sizes. The toms have the old Slingerland-style lugs with die-cast hoops on them. They're the nicest-sounding (and coolest-looking) drums I've ever played. Advertisement
Please check out an AWOLNATION show—or at least YouTube us/me! I will also be performing with Ilan at the Guitar Center Drum Off grand finals on January 14.
Thanks for reading. Until next time!
For more, go to www.awolnationmusic.com, www.thenewregime.com, and www.qdrumco.com.