Atma Anur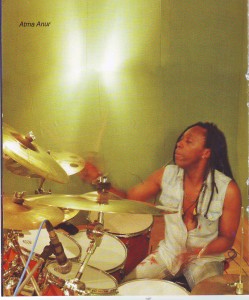 Things have changed so much in the past ten years—in general, and for me personally, in the way I interface with the music industry. I feel like those ten years have progressed in a very different and far more varied way than the ten years that passed before them.
Most people know me best as Shrapnel Records' "house drummer" in the '80s and '90s, having recorded with many of Mike Varney's most influential musicians, such as Tony MacAlpine, Jason Becker, and Greg Howe. Some may know me as that guy who won the biggest drum audition of the mid '80s—then seemed to disappear from mass media as quickly as he appeared in it. Fewer people, other than the so-called "shredders," know that I have been playing drums, with virtually no break, for almost forty years, twenty-seven of those as a professional drummer, with 128 released CDs to date, in just about every genre.
After attending the Berklee College of Music I ventured to California, where most of the aforementioned CDs were recorded, along with hundreds more unreleased recordings. After living and working in San Francisco and Los Angeles for twenty-five years, playing thousands of live shows, doing tours, making recordings, and teaching, I made my move to Europe, where I am originally from. Advertisement
MD requested I submit this blog post focusing on one of the CDs I have recorded, Bert Elliot's Asylum in Playland. As has been the bulk of my recorded work, this is an instrumental fusion CD that includes beautiful, original, funky, bluesy music and a couple of originally interpreted remakes of well-known classics.
The story of this CD, and the story of my relationship to Bert, is an example of what I mentioned at the beginning of this personal account—the vast changes that have introduced themselves to the business of making music in the past ten years.
I first met Bert Elliot in 1979 in NYC. He is, and has been, a close friend of another wonderful musician and personal friend of mine, bass player Frank Di Ganci. Frank and I were in one of my first commercial metal bands, Alien, at a time when I was still attending Berklee in Boston and becoming the "fusion head" that I am today. Frank invited his bluesy, Jeff Beck–influenced guitar playing friend to jam with us one night at Om Studios in midtown Manhattan—a very cool evening—and I never saw or thought of Bert again. Advertisement
Once I left California and arrived in Europe, my hometown of London first, I found myself in the well-known situation of virtually starting over again. After being in London for six months, I was asked to do a month-long tour in Poland with another very old Euro-transplant friend of mine from San Francisco. This tour was my personal discovery moment of the artful city of Krakow, Poland, where I currently live. This move is what really gave rise to my awareness of the Internet in general, and the social network revolution to be specific. I had very little Internet involvement while living in the U.S.
As most modern creative people have done, I became involved in social networking with MySpace, FaceBook, and the personal website frenzy that is basic to daily life in the mid to late 2000s. In doing this, I also discovered the great many fans and "Atma appreciators" that have existed for many years, who I never had the pleasure of meeting personally. At the same time I also discovered what was for me a very new idea—home recording. Well, in my case it actually became home mixing.
After working with some of the best producers in the business in New York, San Francisco, and Los Angeles (while recording for various major record labels), I also entered the production game just after 2000, upon my return to San Francisco from Los Angeles. (I'd lived in L.A. while working with Richie Kotzen, who was on Geffen Records, and D.H. Peligro, who was on Alternative Tentacles Records, among others.) Advertisement
Over the past few years I have become yet again a member of the next generation of sidemen—an "Internet sideman," to be exact. I am connecting with musicians from all over the world and collaborating with them to realize their musical dreams in much the same way I did for decades while living in California, only these days we almost never actually meet! Bert was one musician who contacted me through a social network site. We spoke, hit it off through the written word, and shared some music with each other. Soon the plan for his next CD came into the picture, and we were off on the adventure that became Asylum in Playland. Only after some time did we remember that 1979 OM Studios jam session!
Bert Elliot is a soulful musician and has also turned into a good friend. His demos (which included awesome self-programmed drums) convinced me that this could be a great old-school-style musical adventure. When he suggested doing a remake of the Billy Cobham classic "Stratus," I was fully hooked.
Many people who know me know that the Mahavishnu Orchestra is one of my very most favorite bands, and drummer/composer Billy Cobham has been a great influence on my playing since I first heard him in 1973. I feel honored and have what I see as a big responsibility to respect Billy's great contribution to modern drumming. I have been working on swinging and regrouping 32nd notes and using that as a basis for cut-time grooves for many years now, and this is the direction I went in for the solo section in our version of that awesome classic. I also used some of my "Billy licks" in the solo at the end of the song. Advertisement
Pairing up with my old school mate and virtuoso musician Stu Hamm was another wonderful aspect of being a part of this new CD project. Stu and I have done some other recordings together, mostly during his time living in the Bay Area. This was the first situation where Stu and I just grooved together in support of melodies, rather than playing more complex parts as an instrumental ensemble—what we mostly did in the past. Stu and I will also be the rhythm section for Jason Becker's Not Dead Yet Festival in Amsterdam on November 13—an evening including many great guitar players from all around the world, including Guthrie Govan, Mattias Eklundh, Kiko Loureiro, and Joop Wolters.
I hope you get a chance to check out Bert Elliot's Asylum in Playland, and I look forward to where our new technology takes music in the future.
For more on Atma Anur, go to www.atmaanur.com or www.myspace.com/bertelliot.