News and Events, The Showroom
Zildjian Rarities Cymbals
Zildjian recently released select collectible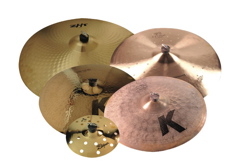 and prototype cymbals from its vault and sound lab. Developed in conjunction with Zildjian artist Adam Nussbaum, the 22″ K Constantinople Renaissance ride is medium-thin and has random hammering and traditional lathing for an even spread of overtones. Cluster hammer marks add a little "dirt" to its sound.
In response to demand for thinner and darker-sounding cymbals, Zildjian has developed a new K Dark Thin series that's unlathed and features brilliant finishes. Models include a 19″ K Dark Thin crash/ride, a 22″ K Dark Thin ride, and 14″ K Dark hi-hats.
Also available are K Custom Special Dry crashes in 16″, 17″, 18″, and 19″ sizes. These cymbals are heavily hammered and unlathed on top for a raw, earthy appearance and a very dry sound. The completely lathed bottom provides exotic overtones.
A 24″ ZHT ride and a 10″ A Custom EFX cymbal complete the Rarities offerings.
zildjian.com