Tony Allen: Afrobeat Innovator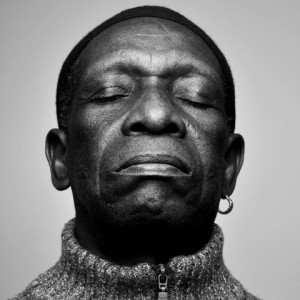 Tony Allen, who along with vocalist/activist Fela Kuti created one of groove music's most glorious subgenres, Afrobeat, deserves a place on the list of the greatest funk drummers of all time. For more than forty years he has been honing a distinctive style that crackles with vitality, pulsates with rhythmic wit, and pushes audiences into dance-party ecstasy.
Allen was born in Nigeria in 1940 and began his career as a jazz drummer. He was playing the popular dance style highlife in Lagos when he auditioned for a group led by Fela, a fellow jazzer. Soon, in Fela's band Koola Lobitos, which was later renamed Africa 70, a fresh musical form began taking shape. Fusing the relentless funk of James Brown with highlife and jazz—with Fela's sax and empowering, antiestablishment lyrics (often sung in English) out front—this new, Western-influenced but unmistakably Third World style was dubbed Afrobeat.
"My drumming is like orchestration by itself," Allen says. Indeed, any of his signature kit patterns features a varied landscape of rhythm that runs from mountain peaks to the bottom of the ocean. Up top is a crisply popping, dry-toned snare, played with relaxed authority and perfect (and perfectly unpredictable) placement; down below stutters a ruthlessly funky bass drum, often kicked in double strokes, that's felt as much as heard.
Tying the two together is Allen's hi-hat. If the bass and snare are Tony's big guns, then the hi-hat is his secret weapon. His patterns on the hats, which were inspired by Max Roach and often make cruel demands on limb independence, can seem at odds with their kick and snare counterparts, yet everything meshes seamlessly.
After many eventful years—scintillating albums, worldwide acclaim, repeated harassment by the Nigerian government—Allen parted ways with Fela around 1980. (The singer/activist would die in 1997.) Tony then began to devote more attention to the solo career he'd begun in 1975. It can be argued that the drummer's best work was ahead of him; his playing would grow even more interesting and sharply sculpted. And with staunch supporters such as Cream drummer Ginger Baker and art-rock producer Brian Eno, plus modern Afrobeat explorers like the New York City band Antibalas and the Chicago Afrobeat Project, Allen would see his influence continue to grow.
The twenty-first century has been good for Tony, who's been based in Paris since the mid-'80s. Highlights include 2002's Home Cooking, 2006's Lagos No Shaking, 2007's The Good, the Bad & the Queen, and 2010's Secret Agent. The sublime tracks of Secret Agent throb with the lifeblood of Afrobeat—which is, of course, Allen's drumming. The album contains some of Tony's crispest rhythms and sunniest music, and every drumbeat is a master class in funk.
So, what could a fellow drummer do to achieve Allen's effortless aura of grooviness? "Well," Tony says, "it's kind of difficult to analyze because it depends on the character behind the drums. If it's a character that's not a cool one, the same thing will happen when he handles his instrument. I'm a cool person; I'm playing my drums the way of my life, the way I behave in life. It's very natural. If you don't have it inside you, there's no way to get it."