Mick Fleetwood and Nicole Atkins Come Together to Launch Cabo Wabo Tequila's "Off the Record" Conversation Series
The Original Rock 'n Roll Tequila Partners Rock Royalty With Rock's Future
to Share Untold Stories of Music Industry Beginnings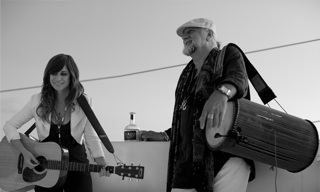 Mick Fleetwood, founder of chart colossus Fleetwood Mac, and singer-songwriter ingénue, Nicole Atkins, have been tapped as the first acts to front the Off the Record music conversation series presented by Cabo Wabo tequila, founded by Rock and Roll Hall of Famer Sammy Hagar. The double act came together in Mick's hometown of Maui, at his new bar Fleetwood's on Front Street (opening early 2012), to share tales of career beginnings, legendary nights on stage, song inspirations, tour secrets and rumored band romances. Their musical journey together was captured on video for Off the Record, and will launch through Cabo Wabo's YouTube page on October 11th at www.YouTube.com/CaboWabo
Cabo Wabo's Off the Record series pairs rock royalty with buzzworthy emerging artists for an intimate one-on-one conversation, captured on film, giving the viewer a personal, behind-the-scenes view into a life in rock and roll. Off the Record allows music aficionados a chance to get the inside track on the untold stories of the musician's experience.
Mick Fleetwood and Nicole Atkins make for a fascinating introduction to the Off The Record program as they both epitomize the grandeur of blues and rock. Riffing off comparisons with Fleetwood Mac frontwoman Stevie Nicks and following her recent cover of the band's hit "Oh Well," Nicole takes Mick to task on the greatness of Fleetwood Mac, amongst his other achievements. Taken en masse, Fleetwood Mac's oeuvre can enchant purists, pop fans and stars alike. Nicole confesses: "Stevie Nicks has had a large influence on my own songwriting and made me comfortable with my singing voice. Fleetwood Mac is that band that is able to write timeless hits with a serious dark side. That's what I strive for in my songs – a contrast between the light and dark." Advertisement
In the dimly lit bar setting that is Off The Record, Nicole finds out firsthand her unknown tie to Nicks, how a fateful night in New Orleans with the Grateful Dead almost got Mick barred from playing in the US before anyone knew his name, and how Fleetwood Mac's many pronged and complicated relationships provided the backdrop that nearly tore the band apart, yet ultimately led to the band's masterpiece, 1977's Rumours.
Equally attuned to the experience of love gone bad, Mick turns the tables on New Jersey-born Nicole. Her new album, Mondo Amore, was hatched in a time of extreme turbulence, a period which saw her parting ways with her former music label while also dealing with the painful termination of "a relationship that should've ended two years before it actually did." Nicole cites blues and classic 60s psychedelic rock as longtime influences, a sound which Fleetwood Mac dabbled in early on. Not only does Mick probe Nicole about the genesis of what New York Times calls her surrealistic songs" and Rolling Stone her "forceful…melancholy," he uncovers the driving force behind her music and her lifelong passion to perform.
Mick adds, "The Off the Record series is something long overdue and highly invaluable to aspiring musicians and music fans alike. Bringing together musicians of varying ages and genres to discuss common experiences gives a one-of-a-kind insight into our craft and world. Not only will people get to see myself and Nicole improvise a little on stage, but there will also be enough rock 'n roll capers to split a band! It's only fitting that this should all be played out over a shot of Cabo Wabo, my tried-and true companion when making music in my new bar, Fleetwood's on Front Street." Advertisement
Founder of Cabo Wabo Sammy Hagar comments, "Cabo Wabo Tequila's association with rock music is well known and we have always been strong supporters of new artists. Off The Record is another program like Cabo's Your Shot to Rock contest, aimed at finding the top unsigned rock bands in America, and aide in moving them forward to become rock stars. Having my friend and legend Mick Fleetwood in the mix, Cabo Wabo adds a new dimension to finding and spurring new artists to greater rock and roll heights."