Michael Lee Firkins' Touring Drummer Cortney DeAugustine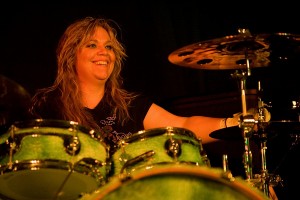 Greetings, MD fans and fellow drummers! I'm Cortney DeAugustine, from California's capital city, Sacramento. Like you, I LOVE DRUMS! I love to play them, fix them, build them, tune them, buy them, sell them, and most of all ROCK THEM!
I got my first kit when I was twelve, and I've been on a learning journey ever since. I love all the different never-ending styles of drumming out there, from taiko, corps, and swing to hip-hop, but my all-time favorite style is straightforward, solid rock drumming with an awesome drumkit and hair flying everywhere. You know you had a great show when you've got whiplash the next morning. LOL!
My current kit setup is a custom-made 100% maple "Green Machine" built by my husband and I with a May Internal Microphone System installed. My diverse cymbal setup includes lots of Sabian HHX Evolution crashes, HHX and AAX Ozones, HH Carmine Appice signature Chinas, an HH Raw Bell dry ride, and multiple hi-hats for fun. I also use a silent subwoofer system installed on my drum throne. I use the Vic Firth SD9 Driver or my new favorite stick, Firth's Danny Carey signature stick. And I use a DW5000 Accelerator double pedal, hi-hat, and hardware and a Gibraltar Stealth Hybrid mounting system. Advertisement
I took my first official drum lesson in May, 2010, with Mike Johnston (Simon Says, Filter), and my favorite chop to play with right now is "The Blushda." I plan to work with him again soon for some more insight, cool chops, and good times, so stay tuned and visit me on FaceBook or email me at cortneyd@comcast.net anytime! Check out my latest video here www.youtube.com/watch?v=GsuN10foj-8.
And you can see me on tour with Michael Lee Firkins opening for Ronnie Montrose. www.michaelleefirkins.com/#!tour-dates.