DVD/Video Reviews, Drummers, Reviews
John Robinson The Time Machine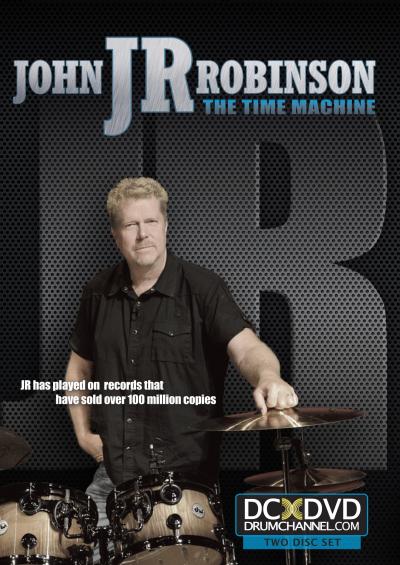 DVD
LEVEL: ALL
$24.95
It's been a good number of years since JR's last instructional video, but this project is well worth the wait. Robinson is widely regarded as the world's most recorded drummer, playing on records that have sold well over 100 million copies—and he's never slowed down his session and touring schedule, a topic he spoke at length about in his April, 2011, MD cover story. In this video he shows us why—and how—he's remained so in demand.
The Time Machine is an excellent title for a video showcasing JR's talent. Across this two-disc package, JR explains his concepts of time, feel, groove, and style—the most important elements of becoming a studio musician and a well-rounded drummer. John goes on to demonstrate hand and foot technique, talks about his gear, and covers working with bass players and percussionists. (Bassist alert: About an hour into disc one, bass legend Abe Laboriel Sr. and percussionist Luis Conte make an appearance.)
Disc two features JR examining topics ranging from tuning and miking to playing with a click track, we get a sneak peek of a recording session with Quincy Jones, and JR's drum tech, John Oreshnick, discusses his duties. Other guest appearances include producer David Foster, bassist Nathan East, guitarist Paul Jackson, and John's band.
The DVD was beautifully filmed and recorded at Drum Channel studios in California, and the entire set is easy to digest—JR is very charismatic, so he holds your attention when he speaks. And when he plays, his feel is just perfect every time. If you're a follower of JR's playing or just a fan of great groove music, this DVD is for you. For a taste of Time Machine, check out the following clip, in which JR shares tips on developing time and feel. (Drum Channel/Alfred Music)
Billy Amendola
[jwplayer config="Custom Player" mediaid="12098″  logo="https://www.moderndrummer.com/wp-content/uploads/logoplayer.png" logo.hide="false" logo.position="bottom-right" logo.link="https://www.moderndrummer.com"]