Freddie Gruber

Right up until his passing on October 11, Freddie Gruber was a source of deep and important knowledge for many top drummers. This piece from the January 1996 issue of Modern Drummer, by one of his most accomplished students, paints the picture of a unique, colorful, but most of all, dedicated man.
by Ian Wallace
Every once in a while there emerges in certain fields personalities who are generally considered to be "one of a kind." In sports you have Babe Ruth, Joe Montana, and Michael Jordan. In science, Albert Einstein and Stephen Hawking. In comedy, W.C. Fields and Charlie Chaplin. In music, Igor Stravinsky and Charlie Parker. As for drumming, Tony Williams and Buddy Rich.
Freddie Gruber is also a "one of a kind." Once referred to by best friend Buddy Rich as "none of a kind," Freddie is regarded by many of today's top drummers as one of the world's greatest drum teachers. All one has to do is look at who has consulted with him in the past five years to see this to be true. Dave Weckl, Peter Erskine, Steve Smith, Adam Nussbaum, Neil Peart, Anton Fig, Kenny Aronoff, Richie Garcia, Gregg Bissonette, Clayton Cameron, Rod Morgenstein, and Jim Keltner have all at one time or another studied with Freddie. Advertisement
But just who is Freddie Gruber?
Now in his sixties, Freddie looks some fifteen years younger. When talking about the drums, he seems to be around twelve or thirteen.
A native New Yorker, Freddie began his playing career as a teenager in the 1940s. He studied with the greats, including Henry Adler, Freddie Albright, Mo Goldenberg, and Joe Springer, a piano player who worked with Gene Krupa and Billie Holiday.
When Freddie was nineteen, Barry Ulanov wrote an article in Metronome magazine titled "The Shape of Drums to Come," talking about Freddie's polyrhythmic interpretations, which were conceptually far ahead of anything else at that time.
Hanging out on 52nd Street during the '40s and early '50s, Freddie watched and listened. He sat in behind Billie Holiday, and played in a little-known big band that never got beyond the rehearsal stage, but that included such players as Charlie Parker, Zoot Sims, Al Cohn, and Red Rodney. Advertisement
As his reputation grew, Gruber appeared in ads for the Leedy Drum Company, and in 1949 he took the drum chair with Buddy DeFranco. In the early '50s he roomed with Philly Joe Jones. On one occasion, the two were practicing together on drum pads as Kenny Clarke looked on amused, waiting for these young "door slammers" to finish so he could demonstrate how it was really done.
Freddie learned from many legendary drummers, including Billy Gladstone, who saw something in a young Gruber. Gladstone was kind enough to show him his approach to the snare drum.
Freddie practiced with Cozy Cole and many others of the drumming fraternity—some of them, according to Freddie, potential greats who fell by the wayside and eventually disappeared into obscurity.
Gruber was one of those who were averse to the spotlight, and in May 1955 bad habits and ill health forced him to move out of New York City and toward the sunnier climes of Los Angeles. Unfortunately, he reached the West Coast about a year and a half later!
And so it was that in 1957, newly arrived in Los Angeles, fortune smiled on Gruber. Walking down Sunset on his way for a haircut, the drummer reached Vine and literally bumped into Shelly Manne, who, looking quizzically at Freddie, exclaimed, "I thought you were dead!" Whereupon Shelly set him up with a union card and a job. According to Freddie he made an effort to conform, but the music was too straight for him. Freddie's boredom led to pranks, a giant drumstick gag being the last straw. He was soon fired and went underground, playing after-hours clubs. Advertisement
Around that time, Charlie Perry, the drum educator and entrepreneur, called from New York, saying that he felt a system of teaching and playing that Freddie had developed worked, and, "When are you coming back"? Freddie replied, "Forget it! I'm not coming back. And besides, I'll never teach!"
Well, as they say, "It's an ill wind…" because in those after-hours joints, drummers hearing Freddie play began to ask questions like, "How do you do…"? Pretty soon, contrary to his statement to Charlie Perry, Freddie began teaching in the kitchens of the clubs between sets. One thing led to another, and gradually he established a small clientele.
Gruber moved his operation to the daytime, teaching on pads by the side of a public pool. Chuck Glave, a student of his at that time, remembers the "pool" sessions: "Freddie used to line up four or five of us at the edge of the pool with drum pads. He would then start swimming laps, and when he would return to our side of the pool he would tell us what to play, before heading off again across the pool!" Advertisement
Pretty soon Freddie was getting results. Some of the drummers he was teaching started working with bandleaders like Red Norvo, Lionel Hampton, and Ray Charles. One drummer from the first batch he taught was John Guerin. All along drummers came to him solely by word of mouth. He never advertised, and he never had a phone service—or even a business card.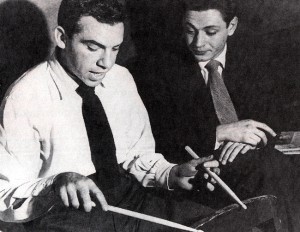 Gruber's methods at this time were pretty haphazard. A typical teaching "day" could go on into the night—and very often until the following afternoon. He tells of one instance when a student arrived for a lesson on a Monday, and on the following Saturday the student's wife turned up with his clothes and a rollaway bed, telling him that he might as well divorce her and get married to Freddie! (Chuck Glave later admitted that he was the overzealous student!)
Another problem was that Freddie was teaching the guys to play "far out," and consequently very few of them acquired paying gigs. In fact, according to Freddie, more of his students ended up in the asylum than on the bandstand! But gradually, as the '60s rolled around, he decided to turn his attention to equipping drummers with the tools needed to enable them to find work in the music business, so he concentrated on rock music as well as jazz. It worked. His students began getting good jobs with people like Glen Campbell, Mac Davis, Johnny Rivers, Neil Sedaka, Sammy Davis, Ike & Tina Turner, the Righteous Brothers, and later Donny & Marie Osmond, Joe Cocker, and Al Jarreau. Advertisement
In the mid-'60s Terry Gibbs asked Freddie to teach at his music store. This allowed Freddie to develop the beginnings of an approach, which would enable him to "formalize" his teaching. Many of the youngsters who came out of that situation began to win state rudimental championships, and pretty soon Freddie's guys were working in groups, big bands, TV, movies, jazz, and pop. In fact, his students have covered pretty much the entire range of the music industry. Some of those students around this time were Mike Baird, John Hernandez (Oingo Boingo), and Nick Vincent.
And yet from the '50s to the present day Freddie kept his anonymity. Why? "Because," he says, "it meant freedom. It meant never having to punch a clock." It meant that he could remain the free spirit he had always been. But as the '80s rolled around, the thought continued to nag him, "Do I really know what I'm doing"?
Freddie discussed his doubts with his friend Buddy Rich. "I was always saying to Buddy, 'I don't really know what I'm doing.' And finally one day Buddy replied, 'Do I? The bottom line is, Does it work? You know, it's about time you took responsibility for what you are and not who you are. And anyway, nobody gives a damn—especially you! All your life two pieces of wood have kept you out of a Mobil gas station or the electric chair. It's time to give something back. Why don't you get out there and start attending some of those percussion get-togethers, like PASIC?'" Advertisement
Freddie took Buddy's advice. It was enough to tell him that he could contribute something. "I discovered that there was all this information that had been passed down, and yet there was so very little life being breathed into it. Information is only as good as how well it is implemented. For example, what does another displaced 16th note have to do with the feeling of, say, James Brown"? As Freddie says, "We have arrived at the digital world, leaving our spirit and our souls behind. We originally thumped on things for communication. It was first a language. Then it moved into self-expression, personalizing who and what we are about—art, as opposed to the 'business' of music. And yet that is the third step, today's step, packaging what the artist does and selling it.
"I feel it!" Freddie shouts. "That's what my teaching is about. It can't come from the mind to the gut, it has to come from the gut to the mind, and at that point you define what occurred. Maybe that part is not necessary for everybody, but for some types it is.
"This is how my teaching has evolved. At first in the '50s and early '60s it was conceptual as it related to jazz, then at Terry Gibbs' music store it became rudimental. In the '60s and '70s I gave them what they wanted—technique, as in chops—as opposed to the real thing; facility, the ability to implement the making of music. Advertisement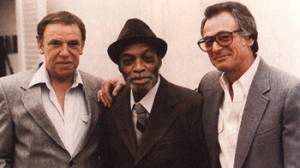 "During the '70s I was involved with Don Ellis, the trumpet player and big band leader, teaching him drums for the purpose of learning to play his own charts. He liked to play drums with his band. He said to me, 'Freddie, why don't you write a book?' And I would always say to him, 'Don't you understand? The books you use to teach with you're using as an excuse for the book in your heard.' I said that I re-tailor the books for each individual I'm working with, so one book wouldn't work for everybody—one size does not fit all.
"So during that period I became more acquainted with drum literature," he continues, "and my own approach evolved around what was available, to arrive at the objectives I wished to attain, dependent on the individual I was working with.
"During the '80s it evolved into a gel of everything I ever taught, and I learned how to use wonderful literature—like Ralph Humphrey's book, which is literally a work of art, as are Gary Chaffee's books—but again using them in my own way. Advertisement
"It would be pointless to approach such material if you didn't know where a quarter note (as in pulse) was. In other words, if the pulse doesn't dance, put the book back on the shelf.
"However, at this point in time," Freddie admits, "I no longer utilize any of the books because of the quality of the players with whom I'm involved. I just work on the approach. Now that I'm starting to do clinics and master classes for Zildjian—and for DW, which I have been part owner of since its inception with my student Don Lombardi—I intend to use this same approach.
"Prior to the untimely death of my best friend, Buddy Rich, we were going to do a video for DCI, but unfortunately it wasn't to be. However, it looks like finally this may come to pass—the breakdown of Buddy's approach to the drumset. Plus, I'm going to do my own video."
My own experience with Freddie began in 1987, thanks to Jim Keltner. I'd just finished a grueling fourteen-month tour with Jackson Browne. When you have been away for such a long period of time, and you finally arrive back home, it seems that everyone has forgotten you existed. All the record producers and jingle companies that you worked for before you went away seem to be using someone else. So I found myself at a loose end, feeling washed up and generally disillusioned with "the biz." Advertisement
After twenty-something years, I had a successful career, and yet, being self-taught, I felt I had reached my limit. I couldn't "teach" myself any more. I was jaded. I thought that, with all this free time on my hands, it would be good to finally study with a teacher. But who?
I aired my frustrations to Jim: "I need a teacher, but after all this time it has to be the right teacher." Without hesitation, Jim said that I should go to Freddie. Jim called him to make an appointment for me.
I parked my car on a Hollywood side street just a block from Melrose, walked up to the door of a dimly lit Spanish-style house, and rang the bell. An old, rather portly, balding gentleman answered the door. "Freddie"? I said, thinking, "Surely not!" "In the back," he replied, and motioned for me to go through. Reaching the end of the musty front room, I opened a door, descended a couple of steps, and surveyed my surroundings. Advertisement
I was in a long, thin room that seemed to be filled with a lot of papers. At the end of the room in front of a small bed was a drumkit. Seated at the drums looking very awkward and rather nervous was a boy in his teens, with one of the worst looking haircuts I'd ever seen. On his right, seated next to the floor tom, was an older man wearing large glasses, with a cigarette firmly attached to his right hand. This I took to be Freddie Gruber.
"Ian"? The voice rode on a wave of smoke. "Take a seat, I'm running a bit behind." I soon learned that this was the understatement of the century.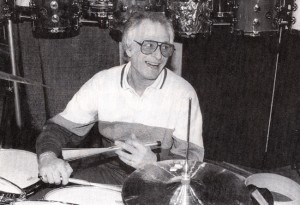 I sat and watched. I noticed two things—one, that the kid on the drums seemed to have absolutely no coordination whatsoever, and two, that taking into account these supposedly insurmountable odds, Freddie was completely involved and extremely animated and enthusiastic. After about fifteen minutes had elapsed, the thought occurred to me that if anyone could teach this kid to play, it had to be Freddie. This was not the type of teacher who sits still looking off into space with a bored expression on his face, repeatedly looking at his watch. Freddie was totally involved. I knew at that moment that Keltner had sent me to the right place.
We went to eat at a Chinese restaurant, and Freddie asked me why I wanted to see him. "You're obviously doing well, you're successful, you're making a living. What is it you're looking for"? Advertisement
I told him that I felt that I'd gone as far as I could and that I intended to play the drums, God willing, for the rest of my life. So there wasn't anywhere to go for me but forward.
I guess I must have said the right things, because he agreed to take me on—on condition, he said, that he didn't mess up my ability to make a living, and that if he saw anything "strange" happening with my hands or if they started to hurt, that would be it.
Well, on the contrary, after only a few lessons my hands (and feet) started to feel great. What had been difficult before was now becoming effortless—and not only that, I felt my concept was changing and my feel was improving. But most of all, watching Freddie dance around the room describing some abstract idea, and observing his unbound love for the drums, gave me back the enthusiasm that I had originally had as a young kid first starting out—that simple desire to just play, which I had lost somewhere along the way. It had returned, and now, seven years later, it's still there just as strong as ever. In fact, thanks to Freddie, it just continues to get stronger and stronger.
As Peter Erskine once said, Freddie is a national treasure. He is my Dad in America, and I love him dearly.