"Frankenstein??? and "Free Ride??? Drummer Chuck Ruff Dies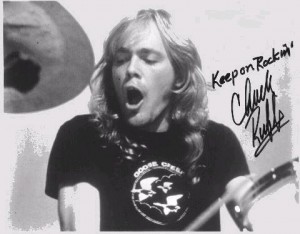 Chuck Ruff, drummer on Edgar Winter's instrumental hit "Frankenstein," passed away in San Francisco, California, this October 14 after a long illness. He was sixty years old.
Ruff was born in Reno, Nevada, on May 25, 1951. His first significant gig was between 1968 and 1970, in the group Sawbuck, featuring Ronnie Montrose and Bill Church. In 1972 Ruff and Montrose joined multi-instrumentalist Edgar Winter and singer Dan Hartman to form the Edgar Winter Group. (Renowned guitarist Rick Derringer first produced the band and then later replaced Montrose on guitar.) The group is best known for recording the number-one instrumental hit "Frankenstein" in 1973; they also enjoyed success with the single "Free Ride," which reached number fourteen on the charts that same year. The band's second album, Shock Treatment, was also successful.
Ruff became the drummer for Sammy Hagar's solo project in 1977, and performed on Hagar albums Street Machine and Danger Zone albums, both released in 1979.
In his later years, Ruff performed in Reno, Nevada, with his own Chuck Ruff Group, the Max Volume Band (he played drums on the 2007 album, Illuminaughty), and his last project, Geezersläw.