Jimmy Chamberlin: The Ex-Smashing Pumpkins Drummer Takes a New Direction with Skysaw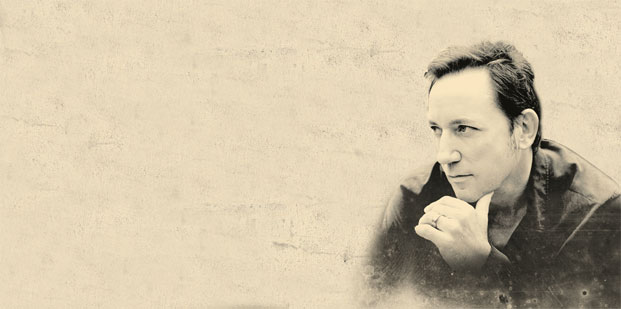 by Stephen Bidwell
A jazz and fusion fanatic with a mind for song craft, Jimmy Chamberlin was the perfect engine to power one of the boldest, most dominant rock bands of the 1990s, the Smashing Pumpkins. With their majestic rock epics, sweeping pop hooks, and grand thematic gestures, the Pumpkins gave Chamberlin an ideal opportunity to take his place among the most identifiable timekeepers of his generation.
These days Chamberlin is focusing on a new band, Skysaw, with whom he gets to revisit drumming concepts he's long been interested in—but in a distinctly new format. In the November 2011 issue of Modern Drummer magazine, we honor Jimmy's career accomplishments in the second installment of our Influences feature series. Here we talk with Jimmy about some of the drummers who have been influential on him, as well as his latest musical direction.
MD: Our first Influences feature in the print publication was about the great Miles Davis drummer Tony Williams; the second one is about you.
Jimmy: Well, that's fine with me, man! [laughs] Tony is definitely one of my biggest influences. Really, for me it all goes back to Tony. I don't think anybody else that I've ever heard or continue to hear has ever changed my drumming life as much as Tony has. For me it's the way drums should sound. And no matter what I hear him play, it just sounds right to me. It's got power and beauty and execution—and there's a real lack of uptightness about his playing. I just love the abandon that he plays with. It's like Elvin [Jones], you know? On first listen you're like, "Okay, this is kind of out there—is this great, or is this something else"? As you break it down you realize that there's just a power there that you can't even begin to understand until the twentieth or thirtieth listen. Advertisement
MD: Did you ever get to see Elvin or Tony play live?
Jimmy: You know, I never did, and I'm so bummed. I did a Groove All-Stars Night with Yamaha, and Elvin was supposed to play. One of the reasons that I did it—because I don't usually do things like that—was because Elvin was going to be there. We were all excitedly waiting for Elvin, but he didn't show because he wasn't feeling well. He died shortly after his next gig, at Yoshi's I think.
So I never did get to see Tony or Elvin, but I love those guys from their recordings, and I've sought out every video of theirs over the years. I tried to dissect as much as I could and just get into that stuff. How do you bring that stuff to rock, and how do you assimilate the power and bring it into your own style without mimicking? Obviously my use of flam taps and stuff like that will always sound a bit like Tony, but…I always felt like those two drummers were probably the biggest contributors to my rock playing, more so than rock drummers like John Bonham, Keith Moon, or Ian Paice. Tony and Elvin had what I felt I was seeking, and still am, in my drumming—that type of power.
MD: Let's talk about your new band, Skysaw. I'm hearing a bit of Rush, a bit of a band called M83…
Jimmy: I haven't heard them, but I'll check them out.
MD: They're somewhat reminiscent of Brian Eno's solo work.
Jimmy: Well, the name Skysaw is definitely an homage to Eno. [The song "Skysaw" appears on Eno's Another Green World album.] I'm a huge fan of Eno and of that type of texture. The Rush thing, that's a good one; I think it's a bit more related to Yes and King Crimson, pre-Rush. The thing with Skysaw is, how do we write semi-complex chord structures and maybe some odd time signatures, and how do we bring that into a pop context in a way that Yes or King Crimson was able to do? Yes more so than Crimson, because they had much more radio success. When we put the band together, one of the things that I was remarking to [Skysaw vocalist] Mike Reina was that Yes was able to have success with extremely complex polyrhythmic and modulating orchestral ideas because Jon Anderson's vocal would always be very pop-oriented, and it would sit well over these complex polyrhythmic melodies. With Skysaw that's kind of the idea—not that we're out to be Yes or write things that are that complicated. I only write complicated things if I feel like I have something complicated to say, and oftentimes I don't. But that's kind of the base idea of Skysaw: to write modern symphonic pop with some progressive edge to it, leaving the vocal to solidify its accessibility to the average listener. Advertisement
I think one thing that I'm attracted to as I get older—maybe not because I'm older, but because I'm a little smarter—is the concept of simplicity. I have two kids; my daughter is eight, and my son is five. My daughter's been playing the piano now for about five years. She's a huge Bill Evans fan, and she loves Thelonious Monk and a lot of that stuff. One of the great things about Thelonious is, on first listen to "Well You Needn't," "Ruby My Dear," or "Crepuscule with Nellie," the melodies sound very nursery-rhyme like, kind of simple. As you get into it or try to play it, you realize that it's almost impossible to play, but for some reason you can sing it in your head. The music I'm attracted to now works on many layers of sophistication. It can be enjoyed in a very basic way, but as you peel back the layers you start to realize, "Oh, that part was in 5/4, and there was a modulation there…." I get real satisfaction writing multi-layered pieces that have underlying sophistication, as opposed to boisterous, "Hey, check us out doing this thing in 13/8 and putting a vocal over it" type of vibe. That's not Skysaw.
MD: What are some of your other influences in terms of the writing of the record?
Jimmy: Roxy Music, ELO, Queen, T-Rex, Bowie. For me it's cool to take that stuff and churn it through the Jimmy and Mike machine, because we're such strong personalities that it ends up sounding like us. I'm happy to slightly rip off those bands and use them as an impetus for writing. It's a lot easier to write with an idea to do something along the lines of, say, Roxy Music than to just be like, "What am I going to write today"? with this white sheet of paper in front of me.
MD: Have you gotten to check out your label mates Silversun Pickups?
Jimmy: I saw them once a long time ago, and then again about six months ago at a benefit in Milwaukee, just doing an acoustic thing.
MD: The band's drummer, Chris Guanlao, cites you as an influence in the Modern Drummer piece. What's your attitude toward other drummers picking up on things you've played?
Jimmy: I think other people hear that stuff more than I do, but that's what we all do. My thing is that I don't want to sound like anyone else. Even if I have to play sloppy to do it, I'm prepared to do that, because first and foremost what's important to me is to not sound like anyone else. Obviously, if you listen to the Jimmy Chamberlain Complex stuff, there's a lot of Tony in there, but at least poorly executed enough to where it sounds more like me. [laughs] It is what it is, and I often get chastised for telling people that the only point to practicing is to learn to be yourself. But I really feel that way. It's like I tell my daughter: "Once it stops being a joy to play the piano, let's just move on." There's no point in playing something that's not an absolute joy. I play my drums every morning, and it's still the greatest thing that ever happened to me. If it wasn't I would start looking for other stuff to do. Playing out live has its ups and downs—sometimes it's great and sometimes it's a drag. But going downstairs and playing in my studio—that's still fantastic. Advertisement
See a clip from the Drum Channel's Gannin Arnold Project DVD, featuring Jimmy's take on the song "Not From Here."