Frank Zummo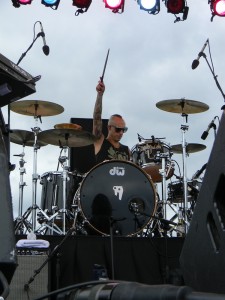 Hi, MD! As I write this I am sitting at LAX airport about to board flight number 1 of 9 that I will take this month. Today's flight is off to Chicago to perform with TheNewNo2. We are supporting Pearl Jam for their two-day PJ20 Destination Weekend Festival.
TheNewNo2 performed a sold-out kickoff show at Bardot Hollywood recently. The show was amazing, and after our set actor Jim Carrey, who told me how much he loved the show, greeted me! Only in Hollyweird! Ha!
That same weekend I performed the Playground Festival in Irvine, California, with my band Street Drum Corps. I'll be jetting back and forth to these shows.
Until October 1 I will be flying all over the U.S. to open Street Drum Corps' Blood Drums Halloween Haunt shows. We're having five theater shows at four parks this season. I'm handling auditions, directing and producing, running rehearsals, and opening all shows. Last year we debuted Blood Drums exclusively at Knott's Berry Farm in Buena Park, California. This year it has expanded to four parks. We will have over twenty drummers performing for us this season. Catch the remaining shows at Kings Dominion in Doswell, Virginia, and Valleyfair in Shakopee, Minnesota. Advertisement
On Friday, September 2, the Movie A Good Old Fashioned Orgy, featuring Jason Sudeikis, opened in theaters. I performed all the drums and percussion for the score. Check out the trailer here.
www.youtube.com/watch?v=nYlr_aDlkvo&feature=player_embedded.
This summer I was super busy with the SDC guys and John Sawicki from Stomp. We have been creating a new show that will tour performing art centers in 2012. We spent a few weeks locked in a room at DW Drums in Oxnard, California—much thanks to Don Lombardi, DW, and Drum Channel.
SDC has released God, Oil, Rock & Roll. It's available digitally. Here is the video for that one.www.youtube.com/watch?feature=player_embedded&v=D728uY7gQLs. Also, Guitar Center just released our Drum Pads episode, which was filmed at Tommy Lee's Atrium Studio. Take a peek here: www.youtube.com/watch?v=FTReABRxoeg&feature=player_embedded
Thanks for reading. Good times and feeling extremely blessed!
For a glimpse of Street Drum Corps' Blood Drums show, click here. www.youtube.com/streetdrumcorps#p/u/7/rnELYWHppNY
Photo by Fai McNasty.