In Memoriam: Woody "Sonship" Theus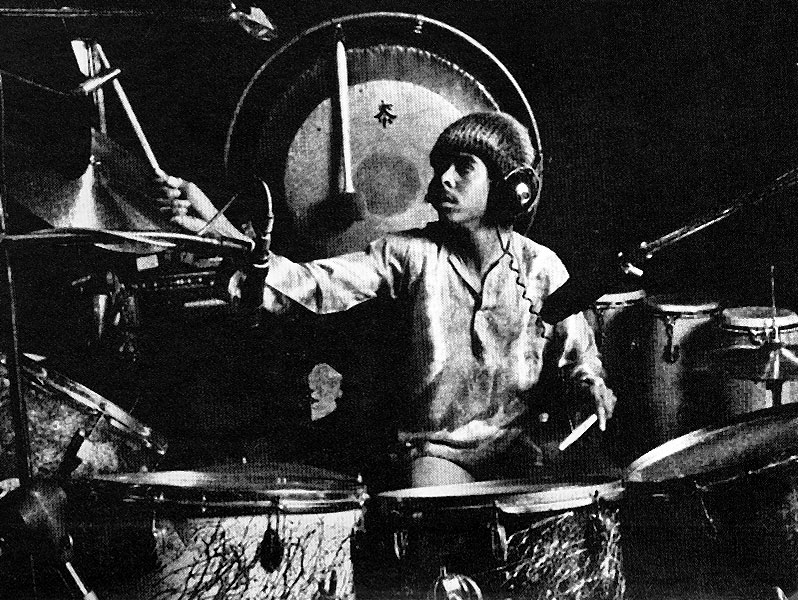 by Gerry Gibbs
Woody "Sonship" Theus, whose credits include work with McCoy Tyner, Charles Lloyd, John McLaughlin, Woody Shaw, Freddie Hubbard, Michal Urbaniak, and Pharoah Sanders, passed away this past March 18, at age fifty-eight. Among the pallbearers at his funeral were the world-renowned drummers Ndugu Chancler and James Gadson.
Theus took on the name Sonship upon hearing John Coltrane's classic Sun Ship album at sixteen years old. He made the adjustment in spelling in order to honor Jesus, the Son of God.
Theus was born in Los Angeles on the first day of summer in 1952. By the time he was twelve, he had played the flute, violin, trumpet, and piano before deciding that the drums were his true calling. At sixteen Sonship recorded an album and began a long-running house gig at an L.A. jazz club with pianist Larry Nash, a schoolmate. While still in school, Theus began getting calls to play with jazz artists like saxophonist John Klemmer. Another sax great, Charles Lloyd, called Theus's mother and told her that as soon as the young drummer graduated, he wanted to take him on the road. Sure enough, once Sonship was done with school, he joined Lloyd, playing with him on and off for eleven years.
Among the qualities that made Theus unique was his unrelenting energy. He insisted that his intensity and volume—a classic image shows him stretching to play his high-mounted China cymbals—had nothing to do with insensitivity or an attempt to overwhelm the music. Rather, he made a literal connection between his aggressive approach and Psalm 150 of the Bible, which states that God likes to be praised with "high-sounding cymbals." Advertisement
Theus was also known for his unique drumkits. One set featured a three-dimensional replica of the solar system hanging from each drum, while another had fishnet and fake fish dangling from it—both paying homage to God's creation of the world. Sonship also gravitated toward unusual sounds. I remember seeing him once with four large rack toms, all tuned similarly low and timpani-like. At another point he used a stand-up set without a seat, which can be seen in the liner notes to trumpeter Eddie Henderson's Heritage album. And as far back as high school, he was known to paint his cymbals various hues. Regardless of the colors, sizes, or configurations of his drums, Sonship always had a very open, tribal-like tone.
Befitting his unusual approach to sound and technique, Theus was known to carry himself through life in idiosyncratic ways. One bandleader asked him several times to play more softly because he couldn't hear himself. At the end of the set Sonship told the leader, "I will go outside and ask God what He thinks." When he returned to the stage playing as loudly as ever, the drummer explained, "I asked God whether I should play quieter…and He said no."
Though this sounds like the behavior of an irrational or self-centered person, people close to Sonship knew him as an intelligent, sensitive, giving, sane musician—albeit one whose priority was always to glorify Jesus and hopefully take musicians to the next level. In fact, one time he surprised me by relating how he was disappointed when playing with a particularly famous bandleader, because the leader was simply not ready for Sonship to take him and his band as deep as he wanted to go. On another occasion, Sonship felt so strongly about being unable to lessen his intensity that rather than play a less inspired drum solo, he instead chose to recite poetry—which, unsurprisingly, glorified God. Advertisement
Theus did eventually alter his relentless approach, explaining that he'd begun employing more dynamics and playing in a more compromising fashion. It wasn't about him anymore, he said, but rather about helping whatever band he was in achieve a group sound.
Since the early 1980s, Sonship had battled kidney problems and spent a good amount of time on dialysis, though he continued performing and recording long after most others would have given up. Eventually he succumbed to his health issues, but not before leaving an indelible mark on every musician he played with and befriended.
Gerry Gibbs leads his own highly regarded groups and has played with McCoy Tyner, Alice Coltrane, Larry Coryell, and Stanley Clarke, among other jazz artists.
Photograph by  Scott Windus. Taken from the Henry Franklin record Tribal Dance.