Siouxsie Sioux's Robert Brian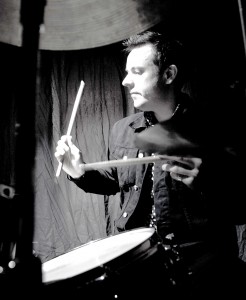 My name is Robert Brian, and I am the current drummer for singer and punk legend Siouxsie Sioux. I have been Siouxsie's drummer since 2007 and have toured the world and appeared on many TV shows as well as on the worldwide DVD release Finale: The Last Mantaray and More Show. I'm also busy promoting my new drumming DVD, Technique and Musicality, which has just been released and is available on my website.
I've been playing drums for thirty-two years and have worked with Peter Gabriel, Coati Mundi, Andy Partridge, Jamie Cullum, and Herbie Flowers. My first break was in 1990 with Hugh Cornwell (ex-the Stranglers), and from there I kept moving forward in both live and studio situations. In 1996 I toured the U.S. and Canada with the famous '80s new wave group Modern English and played on their album Everything's Mad.
From working with Siouxsie I have hit the drum clinic scene in the U.K. and have appeared at music universities and colleges such as DrumTech, ACM, and Planet Drum and as a guest performer playing alongside Chad Wackerman at the weeklong drum festival Rhythmfest 2011. I have also had educational articles printed in the U.K. drum magazines Rhythm and Drummer, and my new DVD received a 4 out of 5 review in those same magazines. Advertisement
My personal ethic is that we can match the technique we learn along with a high musical sensibility when we sit behind the drums. We have to spend an equal amount of time working on being technically intricate and listening to how we can apply that musically in a band/song setting. It is very possible to improve both at the same time—I think we have enough fast drummers in the world, what we need is more musical ones, and my DVD is a definite work tool to guide you in the right direction. I have developed a full-on technical ability over the years, and I get as much work using that as I do playing the most basic of grooves. This, to me, is what a drummer must be able to do well.
My father taught me and gave me a sense of developing an improvisational drumming style with a desire to play what is right for the music. He was a jazz drummer and made sure that I learned to read music and play all the rudiments. He also introduced me to lots of styles. This worked well, as my mother was more of a pop fan, so between the two of them I got a solid mix of many different artists and songs. This helped me to instantly appreciate the classic pop song format as much as the most complicated jazz-fusion piece.
If you are interested in purchasing a copy of Technique and Musicality, please check my website, where you'll find clips and details of how to buy a signed copy. Thank you for your time.
For more on Robert Brian, go to www.robertbrian.co.uk.
Photo by Martin Tompkins.