LP Qube and Finger Shot Shakers, Rio Stanton Moore Pandeiro, and Hi-Hat Shekere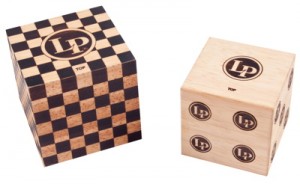 The Qube has an internal baffle design that allows for various shaker effects. Forward-and-back motion creates one sound; side-to-side creates another. When shook in a circular pattern, the Qube produces a double-time version of both.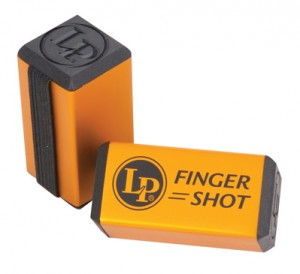 The Finger Shot is a mini version of LP's popular One Shot shaker that's designed to attach to a finger with elastic ribbons.
Renowned drumset artist Stanton Moore has collaborated with Latin Percussion designers to create the Rio Stanton Moore pandeiro. The 12″ drum is fitted with seven sets of jingles,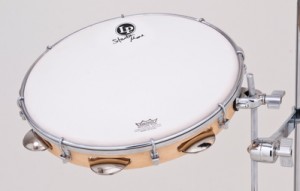 eight tuning rods, and a Remo Coated Emperor head to create a distinctive sound. A built-in shell mount allows the drum to be connected to any cymbal stand with a standard 3/8″ rod. A convenient carrying bag is also included. List price: $149.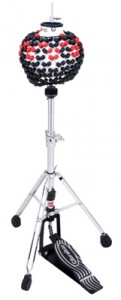 The LP Hi-Hat Shekere (LP485) mounts on any standard hi-hat pull rod. Its fiberglass shell has a flattened-sphere shape without the traditional "throat" of a gourd-style shekere. This shape provides a larger contact area for the beads in order to accommodate the up-and-down motion of the hi-hat. Each Hi-Hat Shekere is supplied with three extra hi-hat seat washers to prevent it from "bottoming out" on the seat. This ensures that only the crisp, bright sound of the shekere will be heard when the instrument is played. List price: $175.
latinpercussion.com Advertisement