Adam Fischel with Debbie Gibson and Midtown Men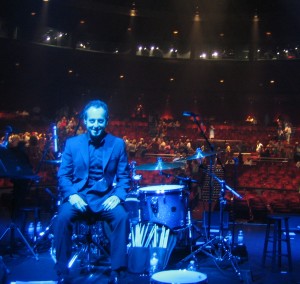 Hello to all you drummers in MD-land! I am currently touring with '80s teen idols Debbie Gibson and Tiffany on their Journey Through the '80s tour. MD associate editor Billy Amendola played on the original recordings from Debbie's debut, Out of the Blue—which earned him a triple platinum record award—and I am now playing along live to his original tracks!
I'm touring for the second time with Debbie, and it has been a blast. We recently played on the TV show Good Morning America, and they broadcast the clips on the big screens all over Times Square in NYC, which was a trip! The shows have consisted of rigorous rehearsals and fantastic performances. Playing along with tracks can be tedious, since it lands on the drummer. The correct in-ear-mix is crucial. But it's been a lot of fun, and the crew and everyone on this tour is incredible.
In the past year and a half I've also been touring with The Midtown Men (featuring the original Tony Award–winning cast of Jersey Boys). This show has been such an amazing experience for me. Everyone is wonderful to work with. They all have big personalities, and they're extremely talented and completely passionate about their art. There is never a time when I don't have a smile on my face as I work with this camp. Musically, it's great to be doing Motown, Beatles, Frankie Valli, and all the best of the '60s—so much fun! These guys are my brothers, and I look forward to my upcoming year with them on the road. I hope to see you at one of the shows across the country. Advertisement
Lastly, I have two recordings coming out this year. The first is the Midtown Men's CD, on which I played percussion and drums. I also recorded with Rainbow Fresh, a '70s rock band that I've played with for many years. Look for those CDs at the end of 2011.
I'd like to give a shout-out to Vic Firth sticks, Paiste cymbals, and Aquarian drumheads for supporting me. See you on the road!
For more on Adam Fischel, go to www.adamfischel.com. For the Midtown Men tour dates, visit www.themidtownmen.com/concerts.html.