Jason McDonald of Strange Karma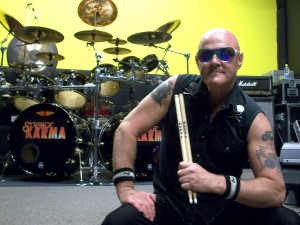 Greetings, fellow Modern Drummer fanatics! My name is Jason McDonald, and I'm from Sydney, Australia. It's an honor to be invited to blog here on MD's website, especially when you consider that over the years I have managed to collect (with the exception of a handful of issues) every Modern Drummer magazine, starting with "The First Year" compilation reissue of the 1977 editions. And I still get excited buying and reading MD each new month!
As you can see from my photo and the ink on my arms, I'm a proud DW endorser, and I have been since 2001. My saying is: There are two types of drummers in the world—those that play DW and those that don't realize what they're missing! I also endorse Evans heads and Custom drumsticks—hard-wearing sticks custom made to your own specifications.
But I'm here to tell you about my band Strange Karma's recently released debut album, Volume 1. If you're into bands like Zeppelin, Queen, and Whitesnake, you should definitely check it out. Honestly, this band is a drummer's dream! When I met Martin Strange (lead vocals, piano, and guitar) and his brother Paul (lead guitar and backing vocals) I was blown away not only by the diversity of their material but also by their encouragement of expansive playing. Seems they were looking for a cross between John Bonham and Keith Moon, and I love the challenge of trying to come up with the best drum parts to complement their awesome songs. Advertisement
Volume 1 embraces this diversity. It opens with "America," a song written about our three-month visit to the States in 2007 (shows in Vegas and L.A., including dates at the Roxy and the Whisky), which also has a video clip on YouTube. That's followed by the acoustic-guitar-based "Down and Out," which won us Best Unsigned Act in the 2010 U.K. MMA MP3 Awards, and then the haunting piano-based "Time," which is one of my favorites—and I'm proud to say the drum track was done in one take!
Other tracks on the album are rockers "Fame," "Storm," and "Harder Than a Stone," plus the acoustic ballad "Uneasy," the instantly catchy piano song "Young & Free," and "Mind Games," the first song I learned with the band. The album ends with the epic "Indian Sun." There really is something for everyone.
And what's even more exciting is knowing that we haven't played all our aces on our first album. With Martin and Paul writing together for over ten years, we have great tracks waiting for Volume 2, 3, etc.! Advertisement
Keep an eye out for dates, as we pride ourselves on a killer live show. Keep on drumming and chasing your dreams, guys! Wishing you great Karma.
You can check out some of the band's songs at www.myspace.com/strangekarma, and you can buy the album Volume 1 at www.fnarecords.net.