Chris St. Hilaire of London Souls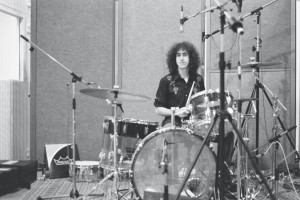 Hello! Ahh…drums! How else can you smash heads with a stick and not go to jail? I started playing at about fourteen years old, when my dad got me my first drumkit. It was a Groove Percussion kit, and I really beat the thing to a pulp before I learned how to keep drums in tune. I feel sorry for those poor things. I learned how to hit hard and get the most out of a drum early on, playing along with Led Zeppelin and Cream and Hendrix records and playing with loud guitarists who you had to fight with to be heard. Then I discovered funk music and heard people like Ziggy Modeliste of the Meters and Clyde Stubblefield of the JB's. I realized those rock drummers were listening to all these funk and soul drummers—and great jazz drummers too, like Tony Williams, Art Blakey, and Max Roach. I'd just try to cop their style but play much louder to compete with Marshall stacks and Ampeg SVTs. I learned that there was such a thing as subtlety.
I began hearing things differently, and I was drawn to any drummer with a certain rhythmic swagger about them, an identifiable pocket, and unmistakable groove, regardless of what genre of music they played. People like Charlie Watts, Bernard Purdie, Al Jackson Jr., Jim Keltner, Billy Cobham, Elvin Jones—where I can identify them within three seconds of a song starting—began having a big impact on me. I started thinking that maybe I had a certain pocket, a certain swagger about my playing too, and that I should find it on my own.
I was not formally taught—the few teachers I had told me I played too loud. They were probably right, but I never looked back. I kept listening and playing, and eventually I met some likeminded musicians with open ears and a taste for loud and boisterous improvisation. Advertisement
With the London Souls I learned (and continue to learn) how to sing and play, while writing harmonies and counter-melodies and finding out about song dynamics from the vocalists' perspective and from the writers', not just the performers', point of view. Of course people like Levon Helm and Buddy Miles were huge influences in this regard, and they're still some of my favorite singers and songwriters, forgetting for a moment that they are also monstrous drummers (though Levon started on mandolin!). I would say that singing makes you a better drummer. And the same goes for writing—or for learning any other instrument. It is all perspective; that's what I've learned.
The London Souls' debut album came out this July 12. We recorded it in Abbey Road's famed Studio 2, where some of my favorite records were made, with the sharp ears and insights of producer Ethan Johns (who knows a thing or two about recording drums—and is quite a beastly little drummer himself). Check it out, and turn it up. Thanks to Modern Drummer for hosting this little rant. Peace.
For more on London Souls visit www.thelondonsouls.com.