Uriel Jones: Architect of the Motown Sound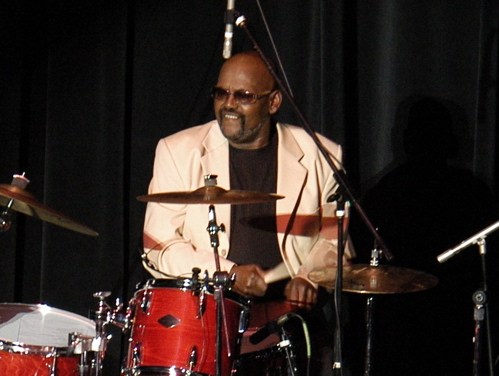 Fifty years ago, the phenomenally popular style of soul music known as Motown was born. Back then, Uriel Jones could kick-start a surefire hit with a couple strokes on a tom, a crack of his snare, and not much else.
According to longtime Four Tops keyboardist George Rountree, "Uriel had a style that made you think, Oh, that's Uriel. You can listen to a track and hear whether it was [Motown house drummers] Benny Benjamin, Uriel Jones, or Pistol Allen playing on it. Uriel truly made you feel the pocket. When you played live with Uriel, it felt like you were in the studio."
Modern Drummer spoke to the drummer shortly before his passing for an article that was published the August 2009 issue.
interview by Drew Shultz
MD: You weren't always an R&B drummer. What did you grow up listening to?
Uriel: Oh, it was all jazz: Art Blakey, and especially Elvin Jones, who had a style like no one else. I knew him because he was from Detroit, and he played all over. There was a club called the World's Stage, which Kenny Burrell had. Elvin, Barry Harris…all the top jazz musicians from Detroit used to belong to this club, and they'd have jam sessions. Advertisement
I used to live in Ecorse, Michigan, and there were a lot of clubs on Michigan Road. I got to be in the house band, and we had jam sessions all the time. Joe Weaver, a rhythm and blues guy, came in one time and asked me if I would I play with him. I explained that I was a jazz musician, but he was still willing to go along with me. I caught on to rhythm and blues real quick. There's not that much difference, you know, between R&B and jazz.
MD: How did you get involved with Motown?
Uriel: Dave Hamilton was a blues guitar player who did some sessions at Motown, and I played with him a few times. They chose him to be Stevie Wonder's bandleader, so he picked me up to be the drummer.
MD: A lot of the Funk Brothers were at Motown.
Uriel: Yeah, Joe Hunter, Benny Benjamin, James Jamerson, Eddie Willis, Joe Messina, and Robert White. Pistol was there before I was. I was the last drummer who came. Eventually, after Benny got sick and passed, I got to do more sessions than any drummer there. Starting in 1965, I was in the studio just about every day—all of [house producer] Norman Whitfield's stuff, Ashford & Simpson…. Advertisement
MD: Speaking of the writers and producers at Motown, how much input did they have on Funk Brothers tracks?
Uriel: Very little. See, most of the producers, arrangers, and writers were young. And a lot of them weren't really music educated. So they relied on us a lot. On some of the tunes, you could almost say the musicians did the arrangements. They'd come in the studio with just a lead sheet, and we would create different things from that. And these producers knew our styles of playing, so they partially wrote on there what they wanted, and they could allow us to use our imaginations on the rest of it.
MD: What did that mean for the drum parts?
Uriel: You know all those Motown pickups? Those are Benny Benjamin pickups. He originated those. And they've been sampled more than any drum pickups ever. Those were all Benny, and they all fit in between him and James Jamerson's bass lines.
Another thing that made a big difference in the Motown sound is that all the staff musicians were really jazz musicians. We always said the musicians at Motown took rock 'n' roll, smoothed it out a little bit, and added a jazz flavor. The grooves, they just fit the Motown sound. James Jamerson and Benny Benjamin, their two rhythms together were the foundation of the Motown sound. Advertisement
But you know, when [late-'60s Motown keyboardist/bandleader] Earl Van Dyke came in, that's when the Motown sound really got to be the strongest. Pistol, he was noted for the shuffle and the 4/4 beat. He was a genius with it. But anytime I say somebody was good at this, or I was good at that…we got all this stuff from Benny. Once I heard Benny play in the studio, I tried to clone myself after him. I think that's why they used me on most of the tunes after Benny left.
MD: There's a great drum sound on all of those tracks. Do you still tune your drums like that?
Uriel: I try to. But I guess it had a lot to do with the drums that were in there too. Motown never bought a new set of drums, and we never had more than four drums. And when another drummer came down there, they wouldn't allow him to take no drum key and mess with it.
MD: Do you remember the setup?
Uriel: [laughs] Yeah, a bunch of different drums put together. They had a Ludwig drum, a Rogers—they were all mixed up. And they never had but two cymbals, a ride and a crash.
MD: Motown used two drummers on some tracks.
Uriel: There were actually very few times when two drummers played at the same time. A lot of times they would use one drummer and dub a second part in. But there's a few tunes [with two drummers playing at once]. The most popular one we did was [the Temptations'] "Cloud Nine." Advertisement
MD: What do you feel makes a drummer soulful?
Uriel: A great drummer can just lay back and listen for grooves. You can take a real simple beat, and if you can lock in with the bass player, or the guitar player, or whoever is doing something that you'd like to fit in with, and you feed off one another, you can make a horn player or piano player climb up the wall. And it can build without you even changing the beat, just being steady.
If you listen to Motown drumming, we weren't really busy. We fed off one another with grooves. I was teaching for a while, and all I was teaching was how to get in different grooves and how to lock in and stay in them. Because a drummer who can really stay in a groove and push a musician, he'll work a whole lot more than a drummer who loves to solo all the time. That's why a lot of times I hate to see a drummer as the leader of a band. Because they stand out more than any other musician there, and they're not supposed to. The drummer, I always figure, is supposed to accompany the other musicians. Most young drummers don't realize that until they get older. They have so much fire in them, you know?
MD: Looking back, what do you remember most from your days at Motown?
Uriel: I've always said I would wonder what my life would've been like without Motown. And I never could come up with an answer. [laughs] The music has been so good to me, and I think it's because when I was beginning, I was in the right place at the right time. And I kept my track record real good. I would always try to be agreeable. I'm still working and doing pretty good because of Motown. What would my life be like without Motown? I haven't been able to answer that yet, because I've been so pleased with it. Advertisement
Indestructible
George Rountree has been the keyboardist for the Four Tops since 1978. His group, the Pieces Of the Puzzle, continues to tour with the Tops under his direction. Here the veteran musician offers his unique perspective on Uriel Jones and Jones's legendary Motown predecessor Benny Benjamin.
Uriel and the Funk Brothers had been playing together for so long, and their experience was so vast, that they just did things effortlessly. He had a style that made you think, Oh, that's Uriel. You can listen to a track and hear whether it was Benny Benjamin, Uriel Jones, or Pistol Allen playing on it. I played with Uriel when I was with Eddie Kendricks, for about a year and a half. He was right on the money. See, I'm a stickler for authenticity. There are people in the audience who want to hear this and that played exactly like they've heard it on the recording. Uriel covered that. That's what we liked to say about him: He stuck to his guns and didn't deviate from it. And it was a pocket. He truly made you feel it. When you played live with Uriel, it felt like you were in the studio.
What impressed me about Benjamin Corbett was that he was a thinker. He has taught me a lot, more than he'll ever know. When I got with the Four Tops, if the guitar player did a lick, I did a lick. If the bass player did some kind of lick, I did a lick too. It was answer, answer. When Ben came on the scene, I listened to him a lot. He showed me that the focus should always be on the singers, and not what you can do or how I can out-riff you. The wheel had a lot of spokes. He showed me that you don't have to be wild to play. He played such simple stuff that the little licks he would put in here and there stood out more. And you knew it was him playing them. There's been many a time when we've listened to recordings of ourselves, and he makes it breathe. I've been with him a long time, and he has a unique style all his own. Advertisement