I hope this moment in time finds you well and rested, ready to sit back, relax, and hopefully enjoy what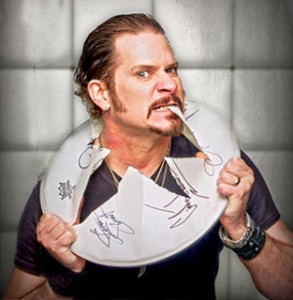 follows. I'm Steven Sweet, mostly known as the drummer from the legendary and revolutionary Los Angeles Sunset Strip icons Warrant. (Okay, I'm allowed to embellish a little, aren't I?)
I've been playing drums for money, good and bad, for thirty-five years. (You say, 'How is that possible, you look so young and fresh?') I would use the term "professionally," however. The first formative years playing in biker bars around Ohio were somewhat vocational. Not until recently did I ever fully realize that we drummers are also athletes. And not just your average athletes, as many of us started out as I did, a little under fighting weight at six-foot-one and 145 pounds (most of which was in fact hair).
Touring with Warrant can be fairly rigorous. We do a modest sixty-some shows a year, which involves mostly travel to and from home, as we like to maintain a solid home life rather than stay out on the road for extended periods of time. The travel can sometimes be as toll taking on your body as the actual time on stage, as I have come to find in my middle age. (I'll be forty-six this year.) With all that we put our bodies through, making percussive impact with all four limbs for sometimes hours on end, it can really wear the old body parts down. At present I have been diagnosed with bone spurs in both shoulders, a collapsed disc in my neck, loss of some reflex in my right tricep—not to mention all the ancillary effects to the lower back and hips that this chosen career path has left me with.
Now, before you think for a second that any of this is regrettable, it is not, for without these reminders that we are alive and kicking, the alternative is always worse. I've begun to take better care in warming up and pacing myself when it comes to live performance. Little changes here and there can make a big difference: playing posture, cymbal height, etc. I've always been what I would call an "ergonomic" drummer. I like to have everything within easy reach—more now than ever, as I continue to contend with the after-effects of years of extreme athletic drumming, or E.A.D. (Feel free to use that one.) My advice is to be mindful of your body when you drum, and you'll avoid being benched.
Now, I mentioned that Warrant plays sixty or so shows a year. Well, I'm hoping to bring those numbers up (pain and all) with the release of our latest studio album, which I am most proud of. The title is Rockaholic. "Rockaholic," as you might imagine, is a term that largely sums up the attitude of anyone who plays hard, lives hard, and loves hard. It's the spirit of going for it, no matter the odds and damn the consequences—it's basically about living out loud. As a self-confessed rockaholic, I can tell you it is what drives me to give my all each night on the drums, even despite the pain sometimes.
Rockaholic was recorded with Keith Olsen (Whitesnake, Ozzy Osbourne, Scorpions) producing and Pat Regan (Kiss, Deep Purple, Ted Nugent) mixing. The experience was phenomenal, and I can truthfully say I've never felt more pleased with the way my drums and drumming sound on a Warrant project.
Just to geek out for a second, I'll share with you some quick details about my setup: Pearl Reference Series kit (incredible engineering and tone—as a result, can't beat 'em…or can you?) with Sabian cymbals (mind if I "crash" your party?). I use Ahead drumsticks—love 'em!—and Remo coated Ambassador X heads on all the toms. This was my first time using Ambassador X's, and I can only say, "Wow!" It was the first time I've ever maintained such a consistent tone throughout an entire project (fourteen tracks) and not ever have to change the heads out for fresh ones. I'm talking no pitting, no dipping, no rippling at all. And I hit hard—I've got the injuries to prove it. This is my ploy to urge all of you to check out a copy of Rockaholic to hear for yourselves.
With fourteen tracks, there is truly something for everyone within. We approached the writing and structuring of this album with the goal of making the best Warrant record we could. Anyone who has ever been a fan of the band will immediately feel at home with these songs. They are undeniably true to what Warrant has always been since the beginning (1989), yet display the maturity that can only come with the life experiences this band has had over the years. Look for us on the road this summer.
I appreciate your taking the time to read my ramblings, and I hope you found some inspiration to embrace your inner (or outer) rockaholic, (damn the pain!) and give it your all, always!
For more with Steven Sweet and Warrant, go to www.warrantrocks.com.