Origin's John Longstreth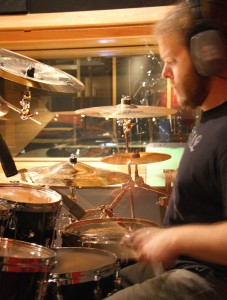 Hi! My name is John Longstreth. I play drums for Origin, Gorguts, and Dim Mak. I can say a few things about myself, and I will, but what I would really like to do is talk about a lot of the myths and truths, the good and bad of what goes on in death metal drumming. Yes, "death metal drumming," not "extreme metal drumming." The term "extreme" always reminded me of Doritos, Gatorade, sports commercials, Nuno Bettencourt, and various other things that needed such a word to fluff up something that was essentially bland. Except, of course for Nuno, who is an absolutely brilliant guitarist.
Anyhow, I've been playing at least half of my life. As with everyone else, it starts on the kitchen floor with pots and pans at an early age and eventually moves on to my amazingly understanding parents buying me a drumset (though probably somewhat begrudgingly). My father was a notable Kansas City jazz musician for fifty years, so my earliest memories of music contain Buddy Rich, Monk, Coltrane, Miles, Zappa, Mingus, Basie, various fusion combos, some Cab Callaway, Pat Matheny, Ella Fitzgerald, Skip Jones…the list could go on for days. He used to have rehearsals in the house with all these different musicians and I thought they were THEE COOLEST people I had ever seen. They were so nice and had a joke for everything.
So, from a very early age, I knew what I wanted to be. I wanted to be one of those dudes that came over to the house and seemingly held life in the palm of their hand and commanded it like a docile hamster. That's right, I wanted to be a musician. So…fast forward twenty-five or thirty years and here we have me, a musician typing a humble little entry for moderndrummer.com, and I couldn't be more excited. I will leave the "me" part there for now. Advertisement
So, death metal! Is it music, art, or sport? I say it's all three. I was attracted to playing Slayer songs when I was young because it offered up a challenge. It forced me to try harder, to develop stronger practice routines; it helped me stay with something and work on it. That felt healthy to me. It made certain things in my younger life much easier on me. As I grew, I began to understand that many other musicians felt the same, but like a football team may have an overly confident linebacker that can make the game not as fun as it should be, so does drumming. Certain characters want to place rules on your drumming, they call it cheating. Cheating? There's cheating in art? In my humble opinion, anyone that takes another person's technique into question and applies an imaginary set of rules to it in order to label it "invalid" simply isn't a musician and probably has some deep-seeded lack of confidence in his/her own self. Same goes for anyone that feels the need to offer up unnecessary critique. This is my long-winded way of saying, Embrace the art! Whether it's two-foot blasting, double strokes, one-handed rolls, triggers, etc., if it makes you feel good as a player, USE IT! Though the term "extreme" may fit what's going on in this genre of music, death metal does not need a euphemized title to soften its exterior for the rest of the world. It needs open-minded, intelligent musicians that want to teach and expose the art and music that just happen to sit behind an easily and commonly misconstrued title.
Death metal, like any form of underground music/art, doesn't need or desire to be accepted by the mainstream media. However, it would be nice to see it accepted as a valid form of music instead of being scoffed at.
For more on John Longstreth and Origin, go to www.myspace.com/origin.