Keith Moon: The One And Only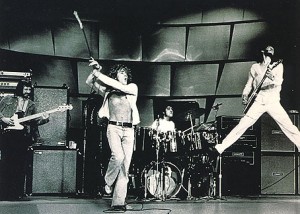 Few players have come close to the level of unpredictability and invention that Keith Moon exhibited between 1964 and 1978, when he manned the drumset behind the grandest, loudest band of rock's golden age, the Who.
Moon's drumming was an utter reflection of his personality—one of the most unusual and tormented in rock. The consummate goof-off, but also the most polite and warm person imaginable (it just depended on his mood and desires at the time), Keith played the drums with maximum passion: splattering offbeat crashes in surprising paces, injecting ruffs on the bass drum like a race horse in fast-forward, pounding out round-house tom fills—and in the early days, ending his assault by kicking the entire set into the front rows…or blowing it up with a cherry bomb! In the Who, Keith found possibly the only band able to withstand his boundless clubbing and caressing. And he took full advantage of the platform, in the process helping free rock drums from their previous major role of support. Keith was really a lead guitarist. He just happened to play the drums.
Everyone who crossed paths with Keith Moon seems to have a favorite story to tell. If one out of ten of these stories is accurate, Keith would still be the most colorful character Swinging London ever produced. In the end, though, Keith's behavior wasn't able to completely quell the insecurities and demons he fought daily; he died trying to battle the alcoholism that was one result of his extreme lifestyle. Advertisement
But the drumming on classic Who tracks like "I Can See For Miles," "Young Man Blues," "Won't Get Fooled Again," and "The Real Me"…there have never been sounds more life-affirming, more joyous, more bursting with feeling. Nor will there ever be.