Brian Hernandez with Jacobs Ladder
Howdy, folks! I'm very honored to be a part of Modern Drummer Blogs. My name is Brian Hernandez and I play in a modern rock trio called Jacobs Ladder. I'm a hard-hitting, energetic player with a lot of passion for what I do.
I've been playing music since the age of ten. My first instrument was actually the gui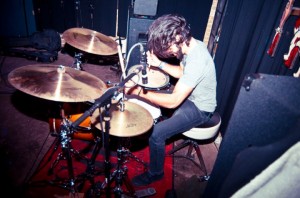 tar, learned by playing Green Day and Metallica songs. I formed a band with my older brothers within a month. Our drummer at the time was a crazy friend of ours who inevitably broke his arm within a week. I stepped in and I instantly felt a connection with the drums. It came to me naturally and I was in love instantly. The groove and feel of songs is something I always followed. Setting the grooves for the music I make is where I find my heartbeat.
At the moment I play a Mapex Meridian Series set. It's a solid kit with a big, warm sound. I'm using a Pork Pie Cherrywwod/Babinga snare drum. I'm a very "meat and potatoes" kind of guy. I like a solid groove and tasty fills. I like my drums to sound huge and really get your blood pumping. I feel like the rhythm section moves the listener, and I don't mind being a little pushy. Advertisement
Jacobs Ladder will be touring all summer, and I'll be taking my skins on the road. Check out www.jacobsladdermusic.com for tour dates. Come see me and my boys do what we do best. Who knows, maybe you'll catch a flying drumstick!