Alesis DM10 Studio Kit With New Rack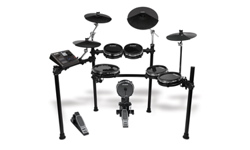 The DM10 Studio Kit features Alesis's new four-post StageRack with upgraded clamps and high-quality mini-boom cymbal arms. The clamps, mounts, and integrated boom cymbal arms are fully adjustable and feature large wing nuts that enable quick adjustments without having to reach for a drum key or other tools.
The DM10 Studio Kit comes with a high-definition sound module containing drum, cymbal, and percussion sounds built from samples of classic studio drums and prized cymbals, plus six RealHead drum pads and four DMPad cymbal pads.