Ryan Luciani of Empires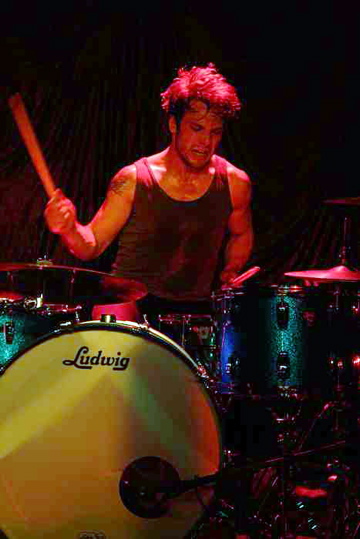 Hey, all, my name is Ryan Luciani, and I play in the Chicago rock band Empires. I'm very grateful to have been asked to write a blog for Modern Drummer, since I've been reading the magazine for years.
First things first! My group Empires is one of the bands in the Rolling Stone contest to be the first unsigned band to ever be on the cover of the magazine. You can check out our new music and videos at the link below. Please vote for us—thank you!
With that out of the way…I've been playing with Empires for about four years. We've toured across the country and released a full-length album and an EP.
I listen to all kinds of music. There is just too much great stuff out there to only listen to one genre. As a kid I used to go through my father's records, and because of his eclectic taste I was introduced to a wide range of drummers, like the great John Bonham and the incredibly musical Graham Lear, who I discovered through listening to Gino Vannelli. These guys still blow my mind. And although my style is more straightforward, I learned from these players that drumming is much more than rhythm alone. After all, as I'm sure you know, drummers are musical! Advertisement
Interesting story about my drumkit: My nickname is "Lucky," partly because of my last name and partly because I'm teased for having a horseshoe up my ass. For months, while playing a very well-known brand of drums, I was telling everyone I wanted a vintage Ludwig set with a bigger, boomier sound. It just wasn't in the budget, though. One day after leaving our rehearsal space, we saw something sticking out of the dumpster right down the hall from where we play. I'm sure the landlord didn't realize that the tenant who skipped out had left something of value, but as I got closer to investigate, I noticed the old-school 1970s blue and olive Ludwig badge. I couldn't believe it, right there in the garbage was the Ludwig kit I was dying to get for so long—24″ kick, 14″ rack tom, 18″ floor tom. In fact, I'm told the shells are coveted by collectors! I added some other pieces, like a Ludwig Black Beauty snare, and I love this kit! I've used it on recording sessions, preferring it to other kits in several studios, and I use it for live shows. True story! (Ludwig take note.)
When you have a minute, I'd truly appreciate it if you check out Empires. Cheers!
For more with Ryan Luciani and Empires, go to www.WeAreEmpires.com. And to vote for them in theRolling Stone Choose The Cover contest, go to www.rollingstone.com/choosethecover/artists/empires.