Roy Burns: Swing Star, Clinic Pioneer, Entrepreneur, And Beyond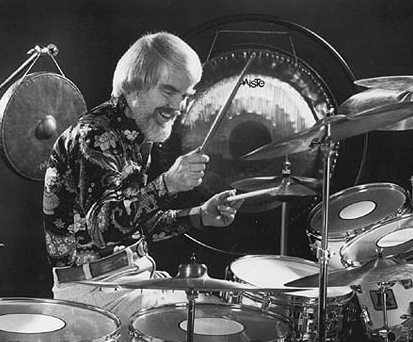 Roy Burns has done it all—and done it well. He's held the throne of numerous big bands. He's established himself as an in-demand studio player, teacher, and clinician. He's written numerous drum instructionals. And he's one of the founding members of Aquarian Drumheads.
Burns was born in Emporia, Kansas, in 1935, and was playing with Woody Herman's big band in New York City by the time he was twenty-one. The budding drummer went on to join the Benny Goodman Orchestra and tour internationally. In 1960, Burns decided to settle down in New York and focus on studio work and teaching. He became a member of the NBC Staff Orchestra, where he performed on The Merv Griffin Show and The Tonight Show, among other shows, and he did numerous commercials and recordings. At the same time, Burns led his own jazz group, frequenting clubs such as The Metropole and Birdland in New York City.
Burns' work in drum instruction during this time inspired him to begin writing instructional books, several of which are considered classics, such as Finger Control, Advanced Rock Drumming, and Elementary Drum Method. The success of his books in turn led to Burns trailblazing into the then–relatively untapped realm of clinics. Burns joined the Rogers Drum Company, and from 1968 to 1980 he traveled the world performing clinics. (Roy was the first American drummer to hold clinics in countries as far ranging as Australia, Ireland, and Hong Kong.) During much of the '70s, Burns was also the house drummer for the Monterey Jazz Festival, performing with giants of jazz and blues including Dizzy Gillespie and Eddie "Lockjaw" Davis. Advertisement
In 1980, Roy began writing his long string of Concepts articles for Modern Drummer magazine. In the column, Burns offered insights on a wide range of topics pertaining to drummers of all ages and experiences. During the twelve years the series ran, readers consistently rated it as among the magazine's most popular.